Visiting the different cities in Gyeongsangbuk-do felt a bit like travelling back and forth in time, as we witnessed a harmonious blend of tradition and modernity.
Whenever Korea travel is mentioned, Seoul or Jeju Island are usually the first destinations to come to mind. But this time round, Weekender Singapore was invited by Korea Tourism Organization (KTO) Singapore to explore Gyeongsangbuk-do, the largest province in South Korea, also known as the North Gyeongsang Province.
There is a good reason why Gyeongsangbuk-do is known as "Korea in Korea". What awaited us was a richly cultural tour lined with picturesque landscapes and gastronomic delights. While Korea travel is the "in" thing now and many may already be familiar with the country, the following 5 cities take you slightly off the beaten path to experience a lesser-known side of Korea. Whether you are new to Korea, or have already visited Korea numerous times, there will be a fun and enjoyable itinerary in store for you.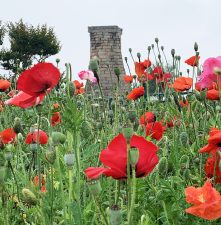 Gyeongju
It came to my surprise that the mysterious and serene Gyeongju I set foot on was the metropolitan capital of the ancient kingdom of Silla. Describing this city as a museum without walls is by no means an exaggeration. It was drizzling lightly as we arrived, and even though it was already late May, the weather was still rather cool. As we leisurely strolled around the majestic Bulguksa Temple admiring its ornate roofs and pagodas, took photos with the Cheonseongdae Observatory that stood erect in a field of flowers, and brushed past a group of youths dressed in historical drama outfits in the luminous Donggung Palace & Wolji Pond, we were awed by how these ancient relics withstood millenniums of rain and shine. A visit to Gyeongju Expo Park also helped us gain a better understanding of Gyeongju's history through captivating installation art and animations. 
Food
Nothing beats the steaming bowl of seafood sundubu-jigae (spicy soft tofu stew) in the chilly, drizzly weather when we had lunch at Matdol Soondooboo (맷돌순두부). When you are in Gyeongju, you may also want to experience a traditional Korean-style full-course meal. We had ours at Sandre (산드레), a restaurant which provides vegan options as well. What was memorable was the variety of seasonal vegetables served, many of which I could not name but enjoyed nonetheless.
The Cherry on the Cake
If you find ancient history a subject too heavy, feel free to check out the very trendy and Instagrammable Hwanglidangil Road near the Daereungwon Tomb Complex, where you can find unique architecture, shop at retro boutique shops, and take fun photos at the artistic alleyways.