Foodies' Most Anticipated Feast – The Michelin Guide Singapore 2023 was held at PARKROYAL COLLECTION Marina Bay! 
Due to adding five new restaurants, there are 55 MICHELIN-starred restaurants in Singapore this year.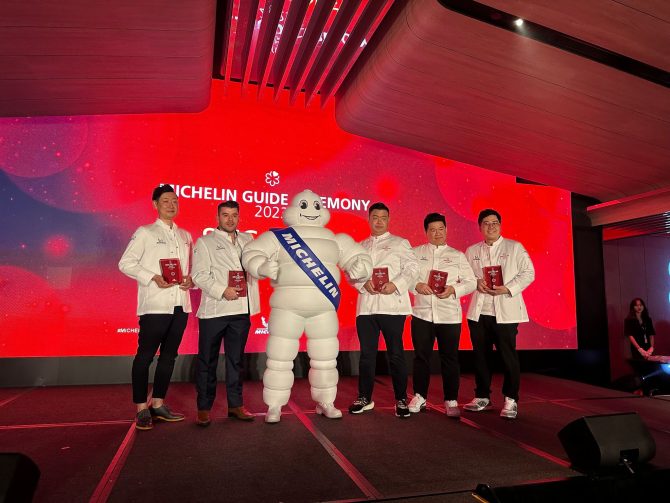 5 Newly Added One MICHELIN Star Restaurants in Singapore
Born housed in Jinricksha Station (a former rickshaw depot circa 1903), it boasts a modern dining room adorned by glowing double arches, a high glass ceiling, and an ethereal paper sculpture. Chef Zor Tan creates a tasting menu that draws inspiration from the circle of life and reflects his culinary journey. By fusing elements of French gastronomy with Chinese cooking techniques, Chef Zor Tan brings together different culinary traditions to create a distinctive dining experience.
Poise is awarded one MICHELIN Star for its tasting menu that reinvents European and Nordic classics that seem unassuming but are laced with clever and creative combinations and nuanced layering of textures and flavours. Chef Steve Lancaster presents his culinary gems in a monochromatic room with theatrical lighting to call attention to the food. The Chicken, Bacon, and Onion dish is a chicken lollipop stuffed with chicken mousse, set atop a shallot purée made with bacon and onion, imparting flavour complexity.
Seroja was opened in 2022 by chef Kevin Wong, an alum of prestigious establishments in France, the U.S., and Singapore, to pledge his love for the Malay Archipelago. His seafood-focused tasting menus pay tribute to Malaysian culinary traditions with generous use of local produce, spices, and techniques. The plating is meticulous and artful, and the flavours are subtle and finely balanced.
Sushi Sakuta presents a simple yet elegant space, with a 10-seat counter made from a 200-year-old cypress tree from Nara, Japan. Chef-owner Yoshio Sakuta works closely with the all-Japanese kitchen team, creating a season-driven omakase menu based on sushi and Japanese fish, plus premium items like caviar and truffles.
Willow is the debut restaurant of Singaporean chef Nicolas Tam, who has worked in some prestigious kitchens. His solid French techniques come through in his pan-Asian tasting menu, mainly featuring Japanese ingredients and sporting refinement, precision, and balance. Served and introduced by the chefs, the courses flow seamlessly and build upon each other.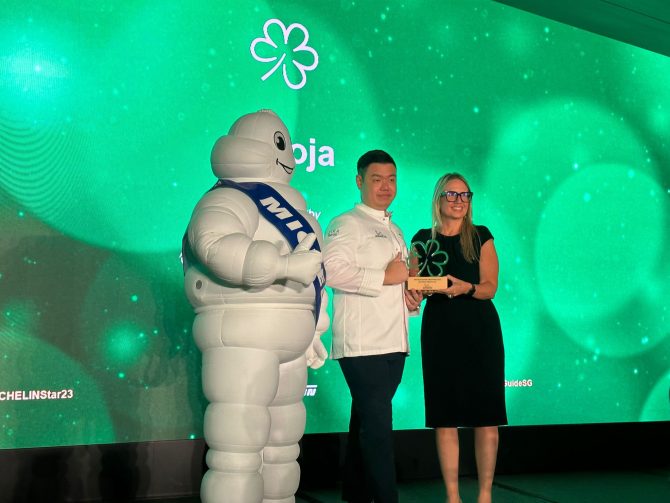 First MICHELIN Green Star Award in Singapore
"Singapore is a fascinating destination, famed for its modernisation yet without giving up on its care towards sustainability. This year, our inspectors are happy to award, for the very first time in Singapore, a MICHELIN Green Star, to highlight a restaurant particularly committed to a more sustainable gastronomy," comments Gwendal Poullennec, the International Director of the MICHELIN Guide.
The MICHELIN Green Star highlights establishments at the forefront of the industry for their sustainable practices and dining experiences that combine culinary excellence with outstanding eco-friendly commitments.
Seroja, a newly minted One MICHELIN-starred restaurant, has made history by receiving the first-ever MICHELIN Green Star. With a focus on ingredients sourced from Malaysia and Singapore, Seroja seamlessly incorporates the beauty of nature into its dishes. Each plate reflects the delicate seasonality based on the microclimate, showcasing the richness and diversity of flavors. The restaurant's dedication to cherishing ingredients shines through in its menu, where even vegetable trimmings are ingeniously utilized in the non-alcoholic beverage pairings.
Complete Restaurant Listings for Michelin Guide Singapore 2023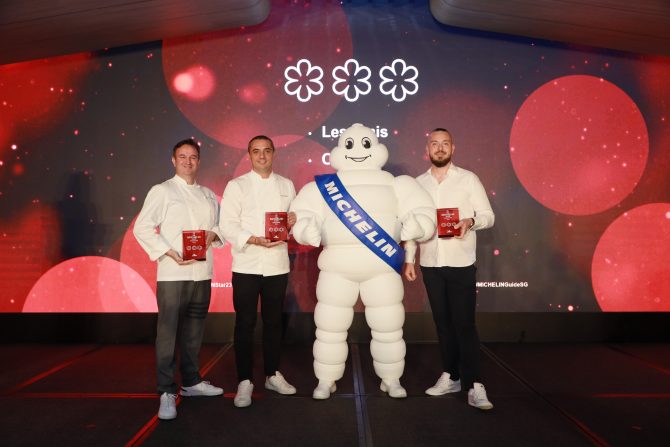 Three Michelin Stars
– Les Amis
– Odette
– Restaurant Zén