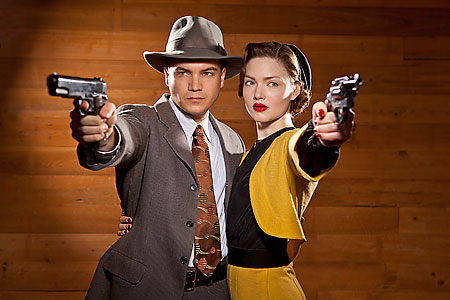 Holliday Grainger of Great Expectations and "The Borgias" is now the gun-toting Bonnie Parker. our editor, Lester J Wan, catches hold of her
Holliday Grainger (of Great Expectations and "The Borgias") and Emile Hirsch (of Speed Racer) star in a new mini-series chronicling the legendary Bonnie Parker and Clyde Barrow, the Depressionera outlaw couple whose exploits assured them lasting fame.
A feature film had been made in 1967, starring Faye Dunaway and Warren Beatty. This new four-hour epic retells the captivating tale in a new perspective.
We managed to catch a hold of Holliday.
What have you been busy with? Have you been filming a new show?
I've just finished filming an indie movie in England called Posh. It's set in contemporary Oxford, about a fraternity called the Riot Club.
I've also been filming in the new Cinderella, as one of the wicked stepsisters. It's really fun! The role is lighter and adds comedy.
Your name, Holliday, is interesting. Why were you given that name?
Billie Holiday [the legendary American jazz singer] was the inspiration.
How do you feel about Bonnie & Clyde?
It's an interesting story. I read about it, growing up. These are iconic American figures, and it's a tragedy. It's a real story of its time. These are rebels, really. You could say they are products of the Depression and were trying to deal with the times.
How did you feel about your role as Bonnie Parker?
It's the most terrified I've been upon receiving the part! Bonnie's an American icon, and I'd never done an American accent before. She had panic attacks, there was dancing, holding guns… It was challenging, and there was a lot of prep involved. I did a lot of research, including reading Bonnie's diaries and letters.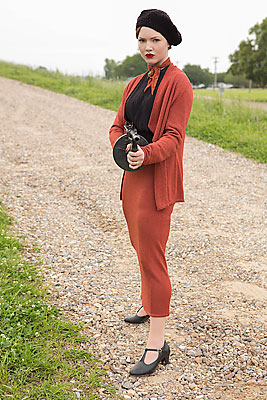 What was most memorable about filming Bonnie & Clyde?
It was like an adventure the whole time! Running through forests and hills, sliding into ditches, shooting guns… [Laughs]
What makes you happy?
Spending time with friends and family.
Which is the happiest moment in your life?
My proudest moment was when I finished my degree. I was doing work alongside it.
I've read that you got good grades or did well in school. Were you a bookworm or did you get into trouble?
A bit of both! [Laughs] In school I was known for talking in class, being late for lessons…
What kind of role would you love to play, that you've yet to have the chance to?
I'd love to do a big action film! Now that I've had a taste of it, I'd love to do a big action film with high kicks and guns. [Laughs]
Bonnie & Clyde will be simulcast on History (StarHub Ch 401) & Lifetime (StarHub Ch 514) in a same-day telecast as the US, on Dec 9 & 10, 9pm.