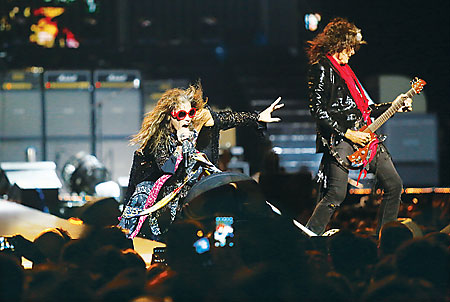 Legendary band Aerosmith rocked our shores on the last night of the Singapore social Concerts with the "Demon of Screamin'", Steve Tyler, still walkin' his way
By Lester J Wan
It was a long wait for fans last Saturday but when Aerosmith finally strutted onto the stage, it was clear that they still are the rock stars that they were decades ago.
Setting off their explosive show with Love in the Elevator, they unleashed their inexhaustible energy and roused the crowd into a frenzy.
Ageless Rock
There was a good mix of the young (teenagers) and the much older (middle-aged). With cheers and screams all around, it was almost as if time had stood still for decades.
Their longevity is nothing short of astounding, considering that they first entered the rock arena way back in the early 1970s. Young and old alike, the adoring fans lapped up every tune and every move of frontman Steven Tyler.
In his trademark flashy clothes and with his famous lips, what was most impressive was that whenever he raised his shirt, his lean, muscular stomach was apparent.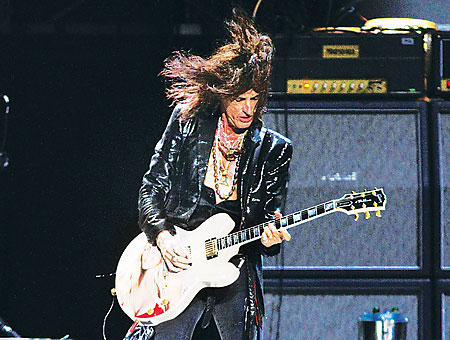 GOOD S***
The crowd nearly went insane at the sound of classic rock tunes from the 1990s, such as Living on the Edge and Cryin'. This revealed their median age.
Tyler asked, "Which do you like better? The old s*** or the new s***?"
The crowd yelled, almost in unison, "The old s***!"
Tyler wryly replied, "I love you even more now!"
Hot stuff
The ladies were hot for Tyler and he pandered to them. Who's your granddaddy now?
Other songs that got a strong response included Jaded, Janie's Got a Gun, and Walk This Way.
Dream On
When Aerosmith left the stage, it was too soon for most and there were the usual chants of "Encore!"
They were not kept waiting long as a white grand piano was rolled out almost immediately.
Tyler granted the ecstatic fans their wish to hear him screech and belt out the refrain of "Dream on… Dream on…"
As Aerosmith finally played their swansong and made their curtain call, the energy was still palpable as the crowd began to disperse, with the tunes, riffs and lyrics still in their heads.
Rock 'n' roll truly is the fountain of youth.