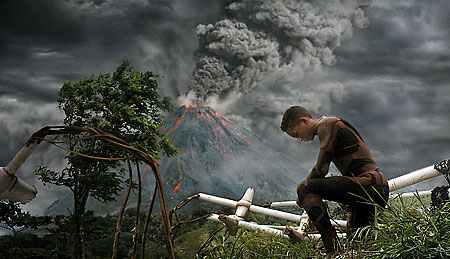 A crash-landing leaves a teenager and his father stranded on Earth, 1,000 years after cataclysmic events forced humanity's escape
After a spectacular crash-landing, Cypher Raige (played by Will Smith) is critically injured and his son Kitai (played by Jaden Smith) must embark on a perilous journey to signal for help. He will have to face uncharted terrain, evolved animal species that now rule the planet, and an unstoppable alien creature that escaped during the crash.
Father and son must learn to work together and trust one another if they want any chance of returning home.
Extreme Future
After Earth begins more than 1,000 years in the future – in fact, 1,000 years after humanity was forced to abandon the only home they had ever known.
"Earth just gave up on humans," says Jaden Smith.
"Tsunamis, toxic air, toxic water, toxic food, extreme weather – it was like Earth said, 'You have to get off of me,' and that's what humans did."
A Difficult Relationship
Their new home, Nova Prime, would know no greater family than the Raiges. Kitai's father, Cypher, became a legendary general in the United Ranger Corps, creating a legacy that Kitai is determined to emulate. But all is not going as planned.
"Kitai feels a lot of pressure to step into his father's shoes," says Jaden Smith.
"Also, Kitai blames himself for his sister's death – she died years ago in an attack that Kitai thinks he should have done something to stop – and he thinks his dad blames him too," he explains.
Father-Son Dynamic
In an attempt to bridge the rift between father and son, says Will Smith, "Kitai's mother suggests that Cypher take him on a trip – spend some time together, bonding. But our ship crash-lands in the most inhospitable place in the universe for human beings – which is Earth."
Interestingly, and most disturbingly, everything on Earth has evolved to kill human beings. With his father trapped in the wrecked ship, Kitai will have to brave all these perilous elements.
"What I thought was really interesting about this film was that it's huge in scope, but it comes down to a simple idea that every person in the audience can relate to: it's a father and son story," says Will Smith.
Karate Kid to Future Warrior
Jaden Smith, just 14 years old, has already made his mark as a leading man. He first appeared on-screen opposite his father in The Pursuit of Happyness, receiving some acclaim. He then starred in the leading role opposite Jackie Chan in the worldwide hit The Karate Kid.
Jaden Smith says that his current character is one that anybody who's been a teen can relate to.
"He feels he has something to prove, because of who his father is and because of things that have happened in the past. So when they crash on Earth, if he is going to survive, he has to put that aside. He has to grow up and become a warrior," he says.
Says Will Smith, "It's something we all have to do as parents – our children succeed or fail on their own, and all we can do as parents is watch."
Will Smith conceived and wrote the original story for the film.
After Earth [PG]
Director: M. Night Shyamalan
Starring: Will Smith, Jaden Smith, Sophie Okonedo and Zoe Kravitz
Genre: Sci-Fi, Action, Thriller
Run Time: 110min
Release: 6 Jun