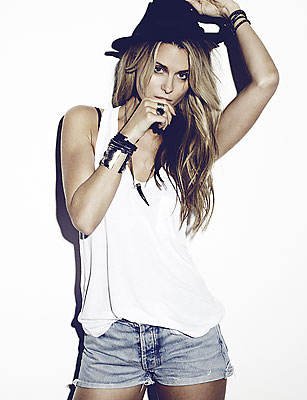 Britain-based house deejay Kate Elsworth was in town to spin at W Singapore Sentosa Cove. We catch up with her on her latest
By Cheryl Chia
Australian-born deejay Kate Elsworth, a statuesque ex-model, has been at the turn tables and in the music scene since 2006. Cutting her teeth in Ibiza, she developed an ear for house music and has collaborated with people such as Thomas Gold and Dirty South, and has worked with singers Emma Bunton of the Spice Girls and French Idol Christophe Willem.
Her latest single, Eyes Wide Open, was launched on Phazing Records in January. We find out more about the latest.
You were previously here spinning at Filter for an Anna Sui event. How do you like the crowd in Singapore?
Singapore is such a beautiful city. The people are great… The event went really well. It was a good opportunity. They were responsive, which is what a deejay really needs when they're playing. You can see that they were really having a good time!
What's in the pipeline?
At the moment, I've spent the last four months in New York writing a more indie-style record. It is not really house music, but it is really exciting and I can't wait to share it with everyone!
Who would you like to work with in the future?
I think Thom Yorke from Radiohead is amazing. That would be a dream come true [laughs] if I got to work with someone as great as him!
You've spent some time in Ibiza. How was that experience like?
Ibiza is amazing! I've lived there for the past two years over the summer and I have been going there for the past eight, nine years. Ibiza is a very special island and I guess it is definitely got something magical about it that draws people there. The experiences that you have, I can't even describe it!
Do you ever get tired from all the jetting around?
Yes! Extremely. I'm in a different time zone every three or four days! In ten days I went from New York to Tokyo, Hong Kong, London and Amsterdam, China and then here. Then Ibiza, then Brazil. I'm like… [makes exhausted face]
I can imagine. What do you do the moment you get a day off?
Anything that is not a club! I love chilling out and spending time with friends and family as I don't get to do that often.
Any memorable moments thus far?
There have been so many, but the best one was performing for 15,000 people in Chile. Stepping up to that many people is insane. The Chileans were so lovely and wonderful. I'm living the dream!