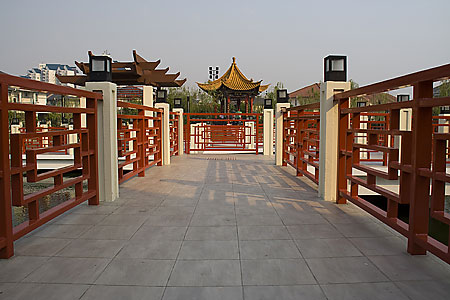 'Kuching' means 'cat' in Malay but our intrepid travel blogger never knew where the place was until he went there. This is part three of his experience
By Darren Ng
After the cultural museum, it was to the China-Malaysia Friendship Garden, other prominent sites, and the tastes of Sarawak.
China-Malaysia Friendship Garden
Built in 2004 to commemorate 30 years of diplomatic ties between China and Malaysia, this outdoor garden is unofficially known as the Zheng He Garden to the locals. With the presence of a China Embassy in Kuching, you can guess that the Chinese population there must be pretty sizeable.
Justin drove us there so I have no idea about its location but it must not have been very far off from the city centre and it seems to be nestled within a residential area. I think it is one of the nicest gardens in Malaysia.
There're two entrances to the park – one side with a Sarawakian influence, the other in ornate Chinese style. Amongst pagodas, rock gardens, and weeping willows over a pond are huts of indigenous Sarawakian fashion; and the friendship between the two countries is cleverly represented by a 20-foot statue of the Admiral Zheng He facing a fountain with seven pillars representing the seven major ethnic groups of Sarawak.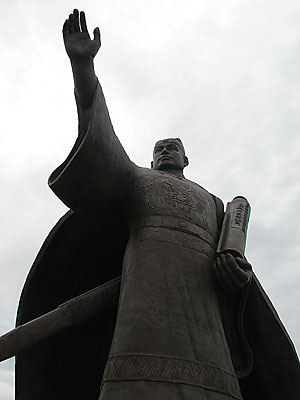 Legacy of Admiral Zheng He
Admiral Zheng He was credited for being China's ambassador during the 15th Century to extend the dynasty's influence and build relations with many countries in the Indian Ocean basin. Born into a Muslim family, he was made a eunuch at age 11 and was given the name, San Bao (meaning Three Treasures).
In his lifetime, Zheng He led several voyages and expeditions to Southeast Asia, South Asia and East Africa, collectively known as "The Travels of Eunuch Sanbao to the Western Ocean". It is also believed that the admiral gave the hand in marriage of Princess Hang Li Po to a Malaccan Sultan, which greatly spurred the rise of the Peranakan culture.
Cat Statues & Other Sites
How can a visit to cat city be without photos of cats? There are two famous sets of cat statues in Kuching. The feline couple can be found at a roundabout junction that marks the city centre, while the white cat stands in front of the gate to Chinatown.
The white cat changes costumes with each festive season. I took a photo of it wearing traditional garb, to herald the upcoming Gawai Festival. The two sets of statues are within walking distance.
We also passed by a pretty interesting and iconic building in Kuching, the Boulevard Bandaraya Kuching Selatan.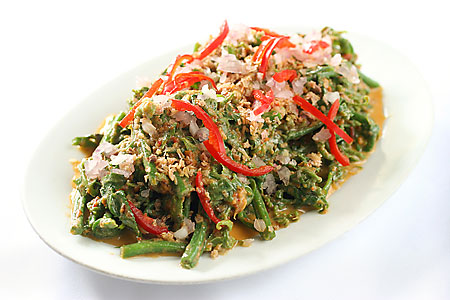 Tastes of Kuching
In terms of the tastes of Kuching, here's a binary feast on some of the local favourites for you:
1. Kolo Mee
Supposedly a culinary signature of Kuching. It is somewhat like Wanton Noodles without the char siew and dumplings but with prawns, pork and other condiments. Nothing very unique. I preferred the bak chor mee in Singapore.
2. Kuching Laksa
This tastes like a watered down version of Curry Mee. Again, not a big draw for me as I prefer the heavier broth of Nonya Laksa.
3. Hinghwa Pa Mee
Hinghwa is my dialect group and in Singapore it's rare to find the traditional Pa Mee at local hawker centres or food courts. Every Chinese New Year, my recently-deceased Ah Ma would cook this dish. So, when I had it in Kuching, I was expecting ang pows!
This is by far my favourite. Not because it stems from my childhood but because the soup was light yet flavourful, and the noodle was soft but not gooey. But the key difference between this version and the home-cooked one is this – my Ah Ma fried the seaweed until it's crispy. That's still the best!
4. Mussel Cracker Omelette
I tried a version of Kuching's Or-Jian (Oyster Omelette) made with mussels. The presentation was pretty interesting as the egg was made into a cracker bowl with the shellfish stuck to it. If only it tasted as interesting as it looked. The egg lost its flavour and the mussels were too cooked.
5. Stir-Fried Fern Shoots
I don't remember what the name of the fern is but it's a species native to Sarawak, so you probably can't find the dish elsewhere. Its availability is also seasonal and unpredictable because it is harvested in the wild.
6. Sweet-Sour Mutton Ribs
This tastes just like the Hong Shao Pai Gu (Sweet-Sour Pork Ribs) in Singapore, except with mutton ribs. This dish graced my tongue beautifully and had me going back for more, though it is quite fatty.
7. Claypot Braised Fish Head
All I remembered was that a thick layer of oil floats on the dish. Elizabeth said it's the omega oil from the fish head but I doubt it. This little amount of fish can't produce that quantity of oil.
After all the exploration and gastronomic adventures, late on our last night, Siow Har and I bought two cans of Stella Artois, headed down to the waterfront, and lit the sparklers she brought from Singapore.
Don't ask me why she brought sparklers there but it was a great way to mark the end of a spectacular trip!
This is an excerpt of an article on Kuching, Sarawak. For the full article, go to explorelah.blogspot.sg/search/label/Kuching