Having received rave reviews after an early screening, Assassin's Creed may be the movie to break the game-to-Hollywood curse
Photos: Courtesy of 20th Century Fox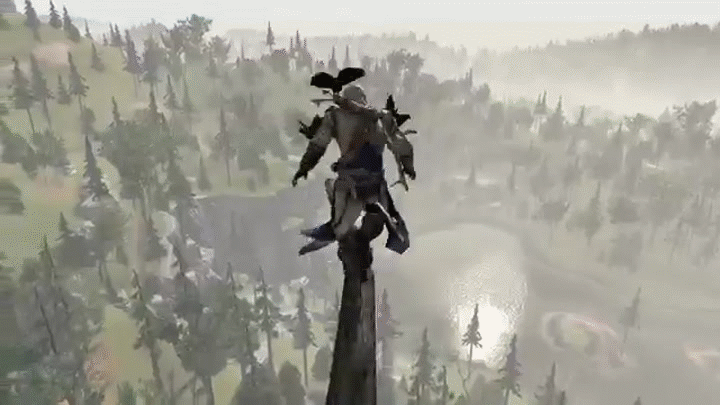 Photo: Make A GIF
In the original "Assassin's Creed" game, the "leap of faith" is an iconic acrobatic move where a character dives from a high point and lands on ground level, unharmed and undetected.
20th Century Fox took a leap of faith with this film that may just pay off handsomely. The popular action-adventure videogame is the latest to be adapted for the big screen, following the likes of Resident Evil, Lara Croft: Tomb Raider, Warcraft and Angry Birds.
Game-to-movie adaptations are notoriously difficult to pull off; however, it seems that Assassin's Creed may have hit a sweet spot with fans, who have praised it for its details and faithfulness to the original game series.
Meet the Assassin
Criminal Callum Lynch (portrayed by Michael Fassbender) is rescued from execution and forced to participate in the Animus Project, which features revolutionary technology that unlocks his genetic memories. Through this, Lynch relives the Spanish Inquisition as his ancestor, Assassin Aguilar de Nerha.
As Lynch experiences de Nerha's memories, he gains knowledge of the oppressive Templar Order – age-old enemies of the Assassins – and develops the skills necessary to take them down in their present-day incarnation, Abstergo Industries.
Lynch and de Nerha are original characters created for this movie. Fassbender describes Lynch as "a lost soul" who "doesn't have a lineage he can feel a belonging to", and this changes when he 'becomes' de Nerha, who is "very much somebody that belongs to the Creed. He has a cause".
Joining Fassbender is Marion Cotillard (Inception, Allied) as Sophia Rikkin, the leading scientist of the Animus Project. Fans of the game will also recognise Alan Rikkin (Jeremy Irons of Batman v Superman: Dawn of Justice), the visionary CEO of Abstergo Industries and a character that appears in the first Assassin's Creed game.
True to the game
Following an early screening of Assassin's Creed, videogame pundits and fans in attendance took to social media to declare high praises for the adaptation. Many noted the climatic portrayal of the iconic "leap of faith" – a well-deserved compliment, considering the stunt broke the world record for the highest free-fall jump at 38.1m.
Beyond the jump, critics also brought up the details and story, with streamer Awesome Joey highlighting its "Action, suspense and an incredible performance by Michael Fassbender [and] cast". Fellow gaming YouTuber Melonie Mac concluded that the "phenomenal" movie "definitely earned its spot in the Assassin's Creed universe".
This comes despite changes both large and little, from introducing new protagonists to changing the look of the Animus machine. Fassbender explains, "We really want to respect the game[s] and the elements to it. But we also wanted to come up with our own thing. And one thing I've sort of learned from doing the franchises like X-Men is that audiences, I think, want to be surprised and to see new elements of what they already know."
A trilogy in the works?
In a surprising development, Fassbender revealed that Assassin's Creed was envisioned as the first part of a trilogy. He shares, "We have an idea of where he's going to go over the next two films. We kind of did a three-film arc."
In fact, plans are already in place for the next two films, and Fassbender looks set to be a returning face. He continues, "We have an idea of where he's going to go over the next two films. We'll wait and see how people respond to this."
Will Assassin's Creed work out to be as successful as fellow game-turned-multi-part film Resident Evil? For now, we're just eager to dive into the first film.
Assassin's Creed [PG13]
Director: Justin Kurzel
Starring: Michael Fassbender, Marion Cotillard & Jeremy Irons
Genre: Action, Adventure
Run length: 116 min
Release: 22 Dec
FEATURED CONTENT:
Enjoy a luxurious coffee experience in the comfort of your home from the heart of Italy. Life is even better with Tazzanera!

Made with the finest coffee beans that are roasted and ground to perfection, Tazzanera is 100% made in Italy and *Nespresso-compatible. Our coffee capsule blends are formulated with the original Italian espresso tradition.

🛒 Shop now to experience the exquisity of Italian espresso:

Official Site: www.tazzanera.sg
Lazada: www.lazada.sg/tazzanera
Qoo10: www.tinyurl.com/tazzanerashop
H