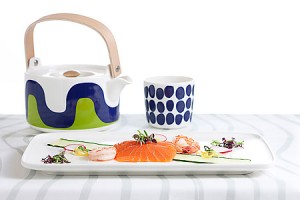 Finnair Collaborates with Marimekko to unveil textiles and tableware with Marimekko's unique designs
By Chia Hui Jun
Finnair has brought textiles and tableware designed by iconic Finnish design and fashion house Marimekko to its aircraft. As a mark of the cooperation, a Finnair Airbus 330 was unveiled on May 7 with a blue-forest livery based on the Marimekko print Metsänväki, or "forest dwellers".
The plane will fly from Finnair's Helsinki hub – in the geographically shortest route between Europe and Asia – to Finnair's 13 Asian destinations and New York, joining a sister aircraft painted in Marimekko's iconic Unikko poppy print last October.
Business Class customers will have their inflight meals from tableware tailor-made for Finnair by Marimekko, and Marimekko napkins, blankets, pillows and head rest covers will be introduced during summer. They will also appear on Economy Class paper cups, headrest covers, fleece blankets and pillows, said Anssi Komulainen, Senior Vice President, Customer Service.
This special Metsänväki collection was designed according to the airline's needs by Marimekko designer Sami Ruotsalainen and two other people, in original Marimekko print by Maija Isola. The classic, timeless prints come in grey or green wavy lines, and dark blue polka dots, telling a story of Finnish nature and the views one can see when looking down from an aircraft window.
Marimekko for Finnair tableware and textiles, specifically the Business Class tableware, is made of special light-weight porcelain to help reduce aircraft weight, thereby contributing to fuel efficiency and a lighter carbon footprint. "The Metsänväki print is… about the Finnish spirit and the forest-inspired energy that makes Finns tick. The print combines the majesty and fairy tale-like magic of the Finnish forest," says Minna Kemell-Kutvonen, Creative Director at Marimekko.
The colours reflect fresh spring time, to give passengers the feeling that they are taking a nap on a sunny, green field. I personally felt that these bold yet minimalistic designs are not too flamboyant, and add an understated touch of colour and brightness to an otherwise sterile-looking aircraft interior.
These fun, unusual designs can provide stress relief to beleaguered travellers, and set the airline apart from its competitors in terms of style. "Making you feel special is our signature way of doing things. Now we have a signature style to go with it," says Service Manager Kristina Koskivirta. With the nature-inspired colour scheme that mimics the Finnish landscape, "serving meals on Marimekko tableware will be like hosting a dinner party at home," says Service Manager Marjaana Saksela.
If you cannot get enough of these designs, a selection of Marimekko for Finnair items is available for purchase through inflight sales and the Finnair PlusShop online.