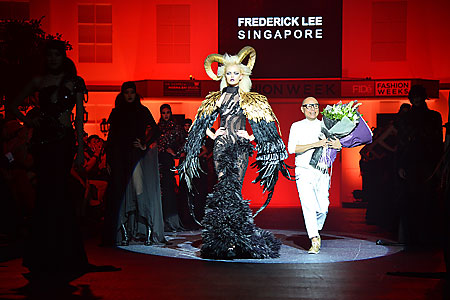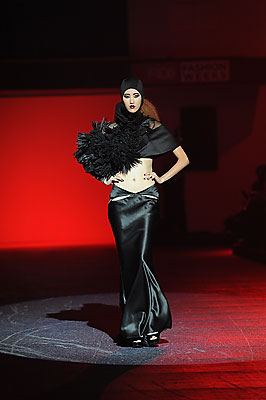 It's been several days of glitz and glamour at MBS and our very own Frederick Lee closes the show with his couture style
By Cheryl Chia
The last day of FIDe Fashion Weeks took place on Oct 19 with local designers Frederick Lee as well as blog shop owners Love, Bonito showcasing their latest works as well as collaborations.
Nicknamed "Singapore Day", our countrymen did us proud in the final closing shows of the FIDe Fashion Weeks.
Frederick Lee's show surprised us with the opening music including the famous "I see dead people" quote from the movie The Sixth Sense, before Emily Hwang – socialite and owner of the boutique MCM – opened his show flanked by two topless male "centaurs".
Dark Shadows
His dark show comprised mainly black with rich billowing fabrics and thigh-high boots. The theme seemed to be a mash-up, drawing inspirations from the ballet piece The Black Swan, with Alfred Hitchcock-esque The Birds meets burlesque. The pieces were darkly sexy yet couture at the same time.
The models looked dressed to kill, literally, with one of the jackets with long-nailed embellishments. They kept almost an angry pace with the music as they walked, no, marched, down the runway with purpose and fashion fierceness.
Closing the Show
The closing piece was the piece de resistance, featuring a lanky blonde model against the contrast of the skimming black-panelled gown, with golden antlers and a cape of darkly angelic wings.
All in all, Frederick Lee's beautifully-themed avant-garde show kept us wanting more.