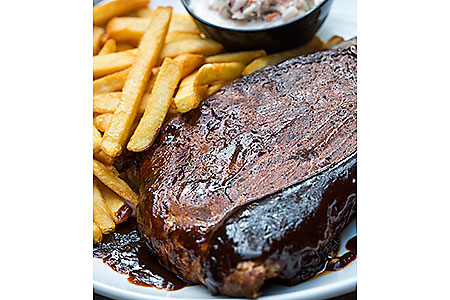 Smokey's BBQ, with its popular house barbecue sauce and smoked meats, has opened its second outlet at Sunset Lane 
One of the best American barbecues we've tasted in a long time is definitely Smokey's BBQ. All its meats are smoked in-house, for that full-bodied flavour.
Smokey's uses the traditional American method of smoking wooden chips to smoke and slow-roast its selections at very low temperatures for up to 20 hours, resulting in a smoked flavour unique to Smokey's.
Apart from that, its wide al fresco space features Red Dot brewery beer on tap as well as a selection of cocktails and imported beers.
Meat, Meat and more Meat
If you're a meat-lover, you'll love Smokey's. The array of meat varies from a tender beef brisket to pulled pork, to St Louis Spare Ribs.
We especially love the St Louis Spare Ribs ($48 for a full slab, $25 for regular). The meat on the ribs is so soft it falls apart with the touch of a fork. Smothered with their homemade barbecue sauce and accompanied with a side of fries… Mmm!
We also liked the Buffalo Wings ($10 for six, $18 for 12 and $25 for 18) covered in their homemade hot sauce with a side of in-house blue cheese dip. Psst: Every Wednesday, happy hour goes on all night and the wings go for a dollar each!
Also try their Hush Puppies ($6) – chunks of deep fried corn bread with tartar sauce.
Surf & Turf
Smokey's also offers an array of Southern comfort food such as Southern Fried Smoked Fish ($17), a tender white fish fillet, smoked, coated in cornmeal and deep fried. Also try their Smoked Venison Chilli Nachos ($16). The shredded venison is tender and juicy.
With good booze and good meat, Smokey's is a good place to hang out with the family.
Smokey's BBQ, 73 Joo Chiat Place, Singapore 427790, Tel: 6345 6914; and Block 106, Clementi Street 12, #01-54/56, Singapore 120106, Tel: 6872 6857. Smokey's is closed on Mondays.