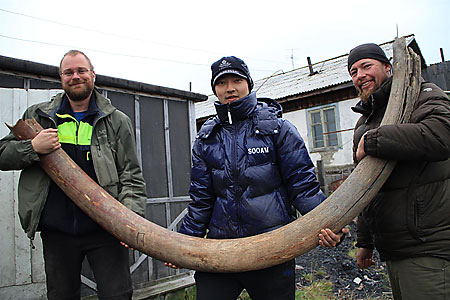 Can the mammoth rise from the dead? A new National Geographic Channel special follows scientists as they work to bring the prehistoric creature to life
About 10,000 years ago, humans shared the planet with mammoths – giant creatures that roamed the Northern hemisphere.
In Siberia, they numbered in the hundreds of thousands before becoming extinct.
Bringing a Mammoth to Life
Mammoth: Back from the Dead follows a team of international scientists as they race to revive the long-extinct species in one of the most expensive, ambitious and audacious undertakings ever.
Premiering on Saturday, Jun 8, at 10pm, on the National Geographic Channel, the show follows the expedition team as they abseil down ice cliffs, search in unstable caves and work on trying to harvest the DNA. All with the singular aim of cloning a living, breathing mammoth.
A Tremendous Task
Working with the Russian government, they have been given unprecedented access to search for deep-frozen tissue in some of the biggest mammoth graveyards on the planet. But with only three weeks to search, the race is on.
Even if the search is successful, the team will have to defrost their samples; find an elephant to provide a donor egg and another to act as the surrogate mother to carry the embryo; and, most importantly, locate viable DNA from an intact nucleus that can be used to start the cloning process.
Extinct to Existent?
"If Insung (Hwang, project leader from South Korea's Sooam Biotech Research Foundation) gets this to work, it's one of the biggest scientific achievements in this century," says Dr Love Dalen.
"We would have brought back an extinct species to life," says Dr Dalen.
Mammoth: Back from the Dead premieres on 8 Jun, 10pm, National Geographic Channel