Actor Frank Dillane and executive producer Dave Erikson tell you why spin-off "Fear the Walking Dead" is the perfect accompaniment to the main series
(Photo: Frank Ockenfels)
Warning: Some spoilers ahead
Just when you thought you couldn't wait for the new season of "The Walking Dead" to arrive in October, AMC turns out an intense spin-off series, "Fear the Walking Dead", to tide you over.
Premiering on Aug 24, the new series fills in the gaps of "The Walking Dead". In Los Angeles, California, a male English teacher (Cliff Curtis) and his fiancée's (Kim Dickens) family are caught in the first wave of the zombie outbreak.
The new series also stars Frank Dillane, who previously acted as Voldemort during his Hogwarts days in the Harry Potter movie saga. In "Fear the Walking Dead", Dillane plays drug addict Nick Clark, the first character you'll meet in the series.
In an exclusive exchange, Dillane and creator Dave Erikson share their excitement about why you should catch "Fear the Walking Dead".
1. It's so mysterious, even the actors were kept in the dark
Kim Dickens and Cliff Curtis star as the leads in "Fear the Walking Dead" (Photo: Justin Lubin/AMC)
Fans of "The Walking Dead" would be familiar with the series' penchant for sweeping the rug from beneath you – especially when it comes to culling your favourite characters.
Well, "Fear the Walking Dead" isn't going to cut us any slack. Expect to be "leaning in and praying" for the characters' safety, because you never know who's going to "get it" or when, said Erikson.
He said, "We start off with them kind of in the dark. It's a gradual reveal of what exactly is going on… We insulate them until the very end."
It's so shrouded in mystery that even the cast was largely clueless too, Dillane revealed.
"It was all very secretive," said Dillane. "I wasn't given any script, I wasn't given any sides, I was told very little… I didn't actually know what [my character's] agenda is."
2. See the fall of a city that "The Walking Dead" didn't show
(Photo: Justin Lubin/AMC)
In the original series, viewers didn't get to see the initial fallout in the cities. This is where the new timeline comes in.
"We're trying to give the audience extra layers, things they didn't get to see in the original," explained Erikson.
"[You'll] see a city begin to disintegrate into chaos and panic, and everyone regressing into their own neighborhood, their own class, their own family."
The urban environment here, compared to rural Virginia in "The Walking Dead", provides a totally different arena of battle for survival.
3. The development is so intense that an actor had to leave the set
Dillane was involved in the series' very first death scene, and it affected him so much he had to walk out.
"I remember it was quite a shock," recounted Dillane of the unexpected twist. "I was hanging around [the actress] a lot… I was looking for her and she suddenly turned around and she had these pale eyes and it freaked me out."
He admitted, "I couldn't watch; I had to leave. It did have an effect for me."
Creator Dave Erickson (right) with Executive Producer Greg Nicotero (Photo: Justin Lubin/AMC)
This translates into "a sense of dread, apprehension and paranoia" for the audience, Erikson said. "There's that just slow burning dread of something is coming, something is coming."
Now I'm curious if we can handle the tension as viewers!
4. It's not just about the zombies
"Fear the Walking Dead" is a lot like the original series – it's not so much about the walking dead as it is about the talking living. The spotlight is cast on conflict within a small group of survivors and character development.
Dillane shared that he immediately felt "lots of depth to the character" of Nick – so much that the actor is "discovering a lot of things about [himself] through [Nick]."
"He is fighting for his soul and I don't know if he'll find it," Dillane said. "I wondered if Nick was the embodiment of the sickness of today… Or the victim of the certain illness that we all feel."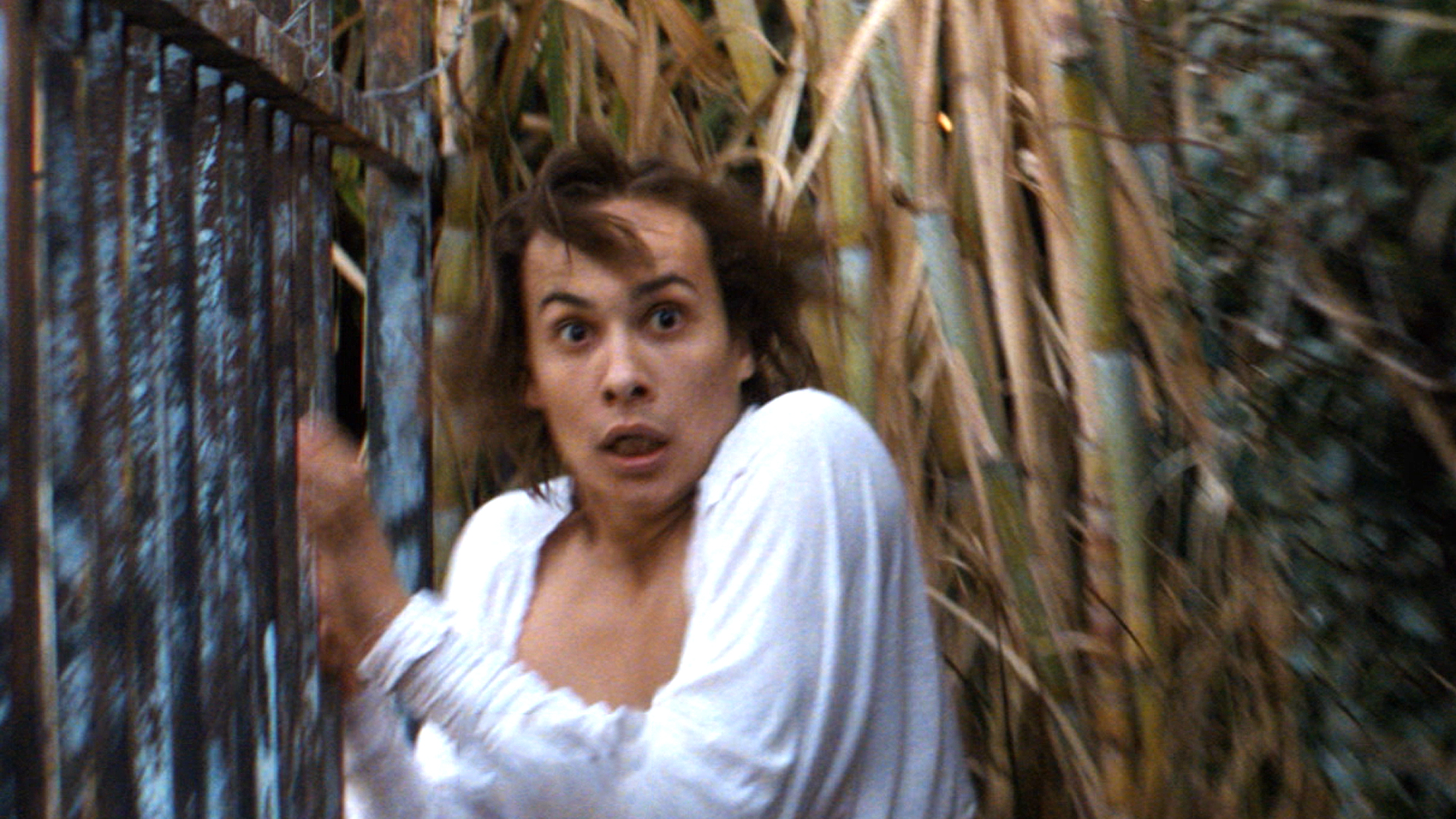 Frank Dillane stars as drug addict Nick Clarke, the first character to appear in "Fear the Walking Dead" (Photo: amcnetworks.com)
You'll get to see how people deal with the beginning of the end of the world, said Erikson.
"When they're forced to do violence it takes a toll. There's psychological trauma."
5. … Although a lot of the zombie action will be remarkable
If you're a bigger fan of gore than poignant character moments, you'll be glad to know there will also be an eruption of zombie bloodlust to look forward to.
"The zombies kind of push it over the edge at some point," Erikson said. "There will be a tipping point where suddenly we're looking at a landscape where there are zombies everywhere… We wanted to get that build and have more of a sort of explosive ending."
The look will be nothing short of spectacular, as Dillaine has endorsed. Don't forget, he did get "quite a shock" from seeing his co-star "turn" into a zombie. He admitted that "the makeup is amazing" too.
6. Watch it for the Easter eggs
If you like "The Walking Dead", you'll be pleased to know this: Erikson guarantees there will be Easter egg references.
But even if you haven't caught up to the fifth season finale of the original series, don't sweat it. This new prequel deviates from the storyline of the former, and there won't be any crossovers (for now). If anything, it'll be a great introduction to the whole "Walking Dead" franchise for you.
By Pamela Chow
"Fear the Walking Dead" premieres on Aug 24 simultaneously with the United States at 9:10am on AMC Singtel TV channel 322. There will also be a same-day encore at 10pm.