With their enchanting songs, dazzling colours and wild antics, wild birds make for a fascinating watch
By Lee Li Ying
I hear the rustle of a thousand feathers above my head as I experience the charm of sprightly little mynahs landing at my feet, in the sweet scent of dusk. In the slow dipping of the evening light, the curious hop and peck of the birds took on a child-like lilt and as they occasionally cocked their curious bright eyes toward post work-out, sluggish joggers collected on the wooden benches.
I watched the yellow-beaked common mynahs jostling around, near my feet, some of them savagely competing for the crumbs of bread scattered in tight handfuls by an aged couple. Their curious antics gave my spirits a surprising lift at the end of a long day.
Indeed, bird watching is a free ticket to the best of nature's cinema. Tuning in to the melodious singing of the birds, the bright splash of feathery colours, their haughty courtship rituals and their easy glide into a majestic arc of flight makes for a refreshing way to spend a relaxing Sunday evening.
It is not that difficult to get started on bird watching too. Lim Kim Seng, an academic associate at Republic Polytechnic with 40 years of bird watching experience says, "This hobby is for everyone. It is the process of observing birds, and can be done by anyone with a modicum of interest. For the less active, they can also enjoy the hobby just by looking out their window, swallows in the sky, mynahs and pigeons on the ground. "
Indeed, Kim Seng himself started bird watching in the 1960s as a child. With the flourishing of birds and wildlife still observable, he was intrigued by the living creatures in ponds, rivers and woods around him. He gathered library books to feed his growing curiosity, eventually getting "hooked" on bird watching.
Nowadays, the fun part is travelling to the wilder parts of Singapore or even out of the country to observe the birds as they go on in their daily life, in their natural habitat. In parks like the Botanic Gardens, adults and young children alike can get acquainted with common birds such as the Javan mynah, the yellow-vented bulbul and the collared kingfisher. The more adventurous can head down to more exciting places such as Pulau Ubin or Sungei Buloh to catch more species of wild birds in action there.
An exciting way to appreciate the outdoors, a starter budget for bird watching is only a mere $300. That amount would be sufficient to purchase a pair of compact binoculars, a field identification guide, a pen and a notebook – essential tools needed to fully enjoy the experience of bird watching.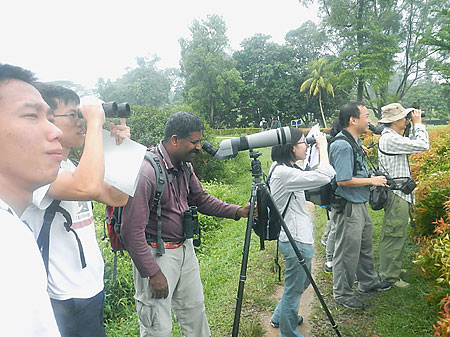 Interested first-timers can download a free iPhone app called "Birds of Singapore" which can help anyone to identify all of the 375 different species of birds we have recorded in Singapore.
Each bird watching outing will never be a boring affair because every trip brings a different experience and perspective in terms of learning about how nature works and how birds live. There are always some rewards of nature waiting to be unravelled during bird watching.
Kim Seng reveals excitedly, "Just this May, during a boat trip to the Singapore Straits, we had the rare opportunity to catch sight of a red-footed booby – a new species never before seen in Singapore! The discovery of something new and unknown is one of the most amazing rewards of bird watching."
For more information on bird watching, you can join the Nature Society (Singapore) as they organise activities every week. Visit www.nss.org.sg for more information.