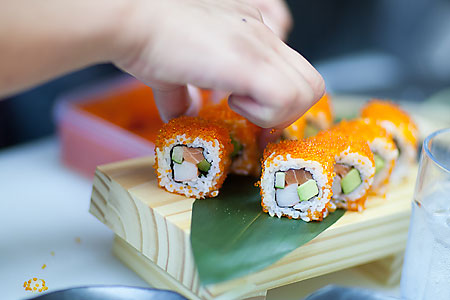 This is neither a pricy, pretentious restaurant nor an average Japanese joint. The Sushi Bar is a cosy corner ideal for catching up over good sushi
By Lester J Wan
The Sushi Bar is a cosy Japanese eatery snugly tucked in a lively corner of Far East Plaza. The young crowd of fashion, beauty and knickknack shop patrons add a youthful buzz to the area.
Having opened on Nov 2, The Sushi Bar is barely out of its infancy. Yet, it is obvious that many of its customers are regular or repeat customers. One can tell by customers' familiarity with the menu, as well as with the chef.
Chef and co-owner Eugene Heng, 27, says The Sushi Bar is a place where he hopes patrons can enjoy truly good Japanese food over drinks and conversation, at an affordable price. The Sushi Bar more than lives up to its ethos, as evidenced by the number of repeat customers. He says the majority of his regular customers are the shop owners of Far East Plaza, as well as yuppies who work in the vicinity.
The Sushi Bar's most popular dish is its Salmon Aburi Roll, which is a variation of the California roll, topped with salmon, and cod roe sauce, and flame-torched. This is a must-try. Their signature dish will bring you to ambrosial heaven.
Nonetheless, Chef Eugene says their best dish is probably the Scallop Mentaiyaki. This consists of thinly-sliced scallops topped with cod roe sauce and flame-torched. It is bound to tantalise your taste buds, and works well as an appetizer.
Here, customers can easily communicate with the chef to find out more about the food. In fact, when he is not too busy, the affable Chef Eugene makes sincere effort to chat with his patrons to find out how they find the food.
"As long as you prepare the food with your heart, and in your mind you want to serve the best you can to your customer, somehow your customer will feel your intention," says Chef Eugene.
After National Service (NS), he enrolled in the At-Sunrice Culinary School. It was his first taste of the culinary world. Since then, Chef Eugene has worked in a number of professional kitchens, with various cuisines, including in a prominent Mediterranean-Italian restaurant.
"After doing Italian, French and Japanese cuisines, I feel most comfortable doing Japanese. Most of the food in Japanese cuisine is very simple yet so delectable," he explains.
As it aptly says on its Facebook page, "No pretentious setting, no jacked-up prices. We want you to enjoy the food and feel comfortable!"
You can be sure you can at The Sushi Bar.
Far East Plaza,14 Scotts Road, #03-89, Singapore 228213, Open daily, 12- 9.30pm, www.facebook.com/thesushibar.sg