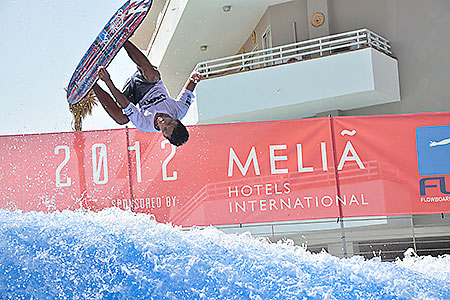 Adrenaline junkies will be thrilled by the challenge of mastering flowboarding, which combines elements of sports such as surfing, skateboarding, and snowboarding
By Lee Li Ying
There is always something thrilling and refreshing about the promise of the seaside. The white curl of the surf against the shore; the parade of ripped, sculptured bodies on the beach; the ring of laughter and the scent of careless freedom in the air – you can't quite find any other place on earth that can offer you both the seductive potential of excitement and calm serenity at once.
In Singapore, the only element missing from the perfect summer equation is the lack of exciting waves that can offer you a rollercoaster ride specially designed by Mother Nature.
But don't be disappointed just yet.
A splendid, and possibly even more exciting, alternative to surfing in Singapore is flowboarding. This water sport incorporates elements of surfing, bodyboarding, skateboarding, skimboarding, snowboarding and wakeboarding. As you might expect, combining all these different boardsports gives thrill-seekers an excellent avenue to test their limits.
Whether you are a beginner completely new to the sport, or a top professional athlete, flowboarding provides the perfect fix for all the adrenaline junkies out there.
The young and gregarious Fariz Samad, a 17 year-old flowboarder who recently represented Singapore in the World Flowboarding Championship 2012, stumbled across this daredevil sport while at a family chalet event held at Costa Sands Sentosa.
Egged on by his uncle to conquer this seemingly intimidating man-made wave sensation, Fariz recalls with a laugh: "It was so hard to balance initially, and it frustrated us so much! " Despite much stumbling and splashing around, Samir and his uncle kept going at it until they were able to finally ride the waves without the instructor's assistance.
Flowboarding involves riding a bodyboard or a flowboard on artificial waves called sheet waves, and performing various tricks and turns. Invented by Tom Lochtefeld, the sheet waves are the patented constructions of Wave Loch Inc.
The company builds structures called the FlowRider and the FlowBarrel, within which flowboarding takes place. Powerful pumps project a layer of water at high speeds of between 32km/h to 48km/h, and the resulting waves are engineered to replicate the shape of ocean waves.
Fariz explains that the FlowRider is the easier of the two wave sensations. It creates a safe, non-curling, endless wave that is perfect for complete beginners.
First-timers will begin with a bodyboard, laying down on their tummys and using their legs as rudders. After they have become more acquainted with the motion of the waves and have learnt how to balance while laying down, they can then move on to using the flowboard.
Gutsy risk-takers are often drawn to flowboarding because of the adrenaline involved, and the thrill of trick progression.
Fariz says, his eyes shining fiercely: "When you do a new trick like a double back flip and you finally master it, it is an awesome feeling because there is now a new major trick in your personal archive. The more you progress, the more you want to try more challenging stunts. Flowboarding teaches me never to give up. Nothing is impossible if we put enough effort into it."
It may seem intimidating, but people of all ages can enjoy flowboarding. Extraordinary strength is not required; rather, it is more essential to learn how to balance one's body weight against the wave.
Says Fariz: "Flowboarding is a combination of different sports, and a fun way to chill by the beach."
Head down to Wavehouse Sentosa to try out this heart-stopping ride for yourselves. Prices start from $35 per hour on the FlowRider and $45 per hour on the FlowBarrel. All riders must present government-issued photo identification in order to ride, and riders under 18 years of age must have a parent or legal guardian with valid photo identification present to sign off.