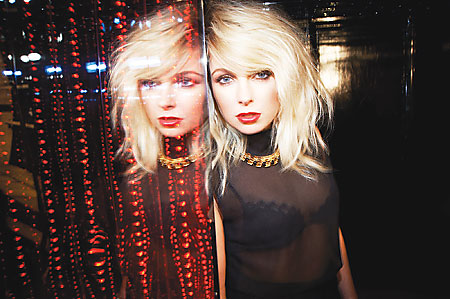 British singer-songwriter-DJ Little Boots is in town for a series of performances. we catch up with her and chat about her album, Nocturnes
By Cheryl Chia
Victoria Hesketh – better known in the industry as Little Boots – looked tired and a mite jet lagged when we spoke with her at W Singapore Sentosa Cove. The small-sized British celebrity was in Singapore for the Fashion Forward After Party where she was spinning. She was also here for the YouTube Fan Festival, and her final appearance on Wednesday for the Music Matters Festival. Previously from the band Dead Disco, she had burst onto the scene with her nu-disco hit, Remedy, in 2009. Her star just keeps burning brighter.
How has life changed since you started in 2005 with Dead Disco?
Beyond all recognition! I've spent so much time travelling; performing in studios… I love it. It's amazing. It is definitely different from driving a van round the country to play in dark little holes with your amps. I'm much happier as a solo artist.
Your album Nocturnes was just launched on May 5, where did your inspiration come from?
I've been listening to old disco and house records and I wanted to feed that classic dance sound into it as I've always been a dance pop artiste and I think that the stuff that's popular right now, all the EDMs just doesn't sound like it has a lot of personality to me. And it's quite generic. So I wanted to put my personality into it by doing dance pop my way.
Who would you love to work with that you haven't?
I'm really excited that Daft Punk has returned. It's really disco and I like that. The only thing for me is that it seems to be a very masculine album. They've collaborated with all these amazing people but they are all men. So, if they want to get a girl in there… "Daft Punk, if you want a girl… give me a call!"
What's the most memorable moment that's occurred on the job?
God, there's so many. Doing stuff like big TV shows in England; it's an amazing feeling. Doing shows like Coachella or Glastonbury… to tour around the world and play your music to people and have them sing the words back at you; it's the best feeling in the world. So, I'm really lucky.
Have you been star struck before in the course of your career?
I get star struck by stupid things. (laughs) Like a celebrity chef, a soap opera actor, never the big people.
I don't know… It's just funny when you see them in normal situations.
You're jetting everywhere for work, how do you keep it up?
It's a little crazy now. I was in Japan, then America, then the UK and then here. It's cool; so when everything happens just go with it and live on your adrenaline, because it is great all these people want to see you and you have to be grateful for that. Although,
I really need sleep! (laughs)