Nazri Nasir was the captain of Singapore's national football team from the late 1990s to early 2000s. His sons are poised to carry on his legacy
By Lester J Wan
Nazri Nasir was a battling midfielder in Singapore's national football team, and was team captain from the late 1990s to early 2000s. He was a key member of the squad that won the Malaysian League and Cup double in 1994, and led the side as they won the ASEAN Football Championship title in 1998. Now, his sons are poised to carry on his legacy in the national team.
One of the oldest youth football tournaments in the world, the Lion City Cup is perhaps most renowned for unearthing local football legends such as Fandi Ahmad, V Sundramoorthy and, more recently, Hariss Harun.
Nazri shares his pride in his own Lion Cubs, as his sons Adam and Amer are currently competing in the under-16 and under-15 teams in the Lion City Cup.
How supportive were your parents when you started playing football?
I come from the background with my mum as a normal housewife and my dad is a very strict dad. When I was selected for the national youth team then, I went for trainings without anybody knowing much. Only [for] my mum, I will tell her I'm going for trainings. But my dad, he is very strict.
But I said, I'll show it to him, and I was selected for the national team. No choice, I had to make a passport and my dad had to do for me; then, from then on, he supported me.
He watched all of my trainings and my games as much as he could because he knows that it's what I love, and he's there to support me. So, I feel I'm very blessed for having parents who were always there for me.
What is it like leading the Under-15 team as coach in the Lion City Cup, with your son Amer in the team?
It has been good; I treat everyone fairly, and my team knows that when I am strict with them it is for their own good. They understand that.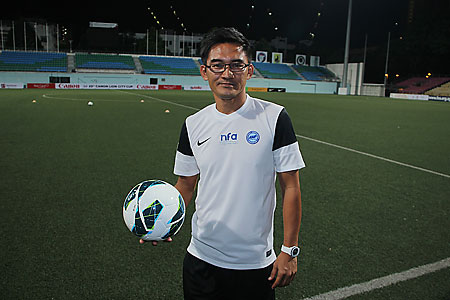 How do you feel about both your sons participating in the tournament, with Amer in the under-15 and Adam in the under-16 teams?
I'm very proud of them; they were selected by the NFA (National Football Academy). Of course, there are expectations on both of my sons that are very high. As I was a national player, and coach now, I know it's tough on them too with these expectations. But I always tell them, just go out and do your best.
For Adam (in the U-16 team), I tell him, you listen to your coach. I don't know what exact instructions Coach Robin [Chitrakar] might have for the team, that is best for the team.
I will tell Adam what he did wrong, what can be better, but in terms of the team I won't get involved.
what do you love most about your sons?
They are very dedicated; they have a very good attitude. They respect their elders a lot, and I like that and would like them to continue like that. They are also very humble; that's very important.
What do you do as a family over the weekend when there is no training?
We always spend time together. We like to watch movies together. We also go out together, sometimes to the beach, but we like to spend time at home too; as long as we are together, it's good.
Apart from Adam and Amer, Nazri has another son who is ten years old, and a daughter who is nine years old.
The Lion City Cup 2013 is ongoing, and the final is on Jun 16.