Get your adrenaline pumping at Timezone Jurong Point or go on a girly shopping trip by visiting KATE SPADE's bus pop-up!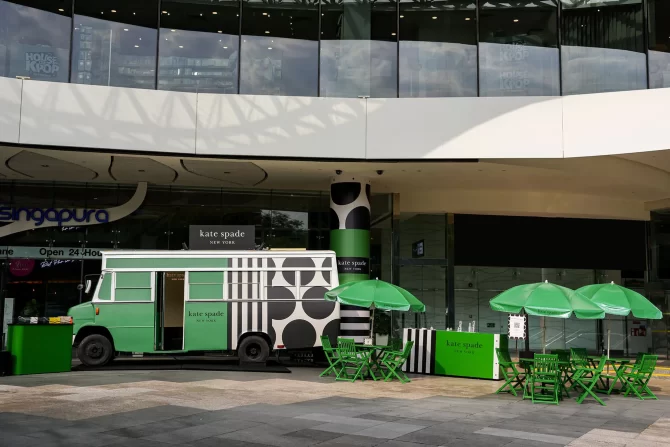 2. KATE SPADE NEW YEAR Roving Bus Pop-Up
Starting from now to 16 September 2023, the Kate Spade mobile pop-up bus will kick off at Plaza Singapura and subsequently journey to four different city locations. This exciting endeavor commemorates the launch of KATE SPADE's Dakota handbag collection and invites the local community to embrace the pleasures of an urban adventure.
The mobile pop-up bus is adorned in the signature Kate Spade green, prominently displaying the brand's distinct visual elements, including bold black and cream stripes as well as playful polka-dots. Earlier this year, in collaboration with Pantone, the global authority on color, the brand introduced Kate Spade Green. This hue represents a contemporary homage to the brand's roots, encapsulating the spirit of potential and optimism that has been synonymous with the brand over its 30-year history.
For the fall season, the brand is wholeheartedly embracing the concept of a city adventure and the unexpected moments that can lead to something extraordinary. Kate Spade New York has always been deeply influenced by culture and art, and the Fall 2023 collection is a creative manifestation of how the brand interprets this season, all with the distinctive Kate Spade touch.
Grab the bus this weekend at Paya Lebar Quarter, PLQ, Plaza, from 12pm to 8pm. Next weekend, it'll be at The Courtyard, Level 1, Westgate, also from 12pm to 8pm.