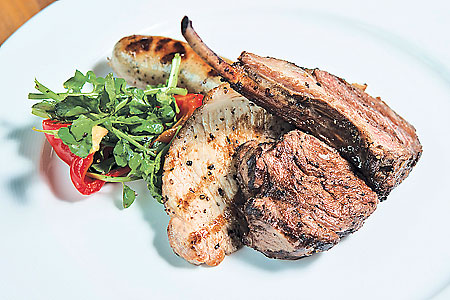 Meat lovers can rejoice with prime cuts of tender meat that will make you salivate. We tackle them head on
By Cheryl Chia
Bull & Butcher is a good ol' traditional steakhouse that opened in Plaza Singapura less than a year ago. It serves tender cuts of meat while you sit on booth seats covered with real cow hide.
Talk about not letting any part of the cow go to waste.
Petite Cuts are Popular
Bull & Butcher specialises in the Petit Tender ($28 for 160g) or Beef Shoulder Tender which lies below the more popular Flat Iron Steak cut. It is cut from the sixth-most tender muscle of the cow.
It is second only to the tenderloin fillet in terms of flavour and delicacy.
Jacco Klip, CEO of Trilogy Hospitality, who opened Bull & Butcher and the upcoming Vogue Club, says, "Discovered in 2010, the Petit Tender has remained relatively unknown as it requires a skilled butcher to extract it. We have a great relationship with our supplier who will be exclusive to us. So those who want to be the first to try it will have to do so at the Bull & Butcher!"
Meat, Meat & More Meat
We loved the Petit Tender for its lean and, well, tender texture. This cut is not listed on the menu, so do ask the waiter about it. Diners who prefer soft, melt-in-your-mouth meat would love the Braised Australian Wagyu Beef Cheek ($38). Its gelatinous yet quickly-dissolved meat comes atop a bed of mash potatoes and gravy.
They also serve chilled seafood as well as other meats such as the Duck Breast, Orange ($28) and Australian Lamb Cutlets ($48). Side dishes are priced at $8 each and comprise a good mix of vegetables, as well as fried bar bites such as onion rings and potato wedges.
Sweet Tooth Indulged
For dessert, the Bull & Butcher has Note Di Sicilia Gelato ($8) – artisanal gelato from Quayside Isle – as well as a to-die-for Pear and Chocolate Crumble with Vanilla Ice Cream ($12), and a Banana Toffee Pie with chocolate sauce ($12).
Prices stated are excluding prevailing taxes.
Bull & Butcher, Plaza Singapura, #01-32/33/35, Tel: 6338 3820