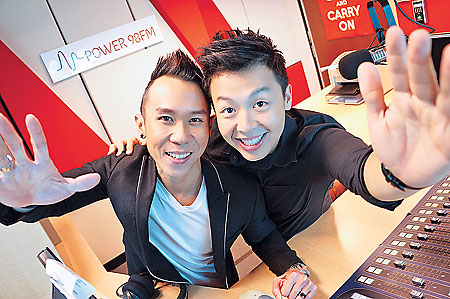 Power 98's DJs have been making waves on local radio. Don't miss out on the liveliness and hilarity of their shows
If you've not heard of them yet, it's time you do. DJs JK, Mike and Sonja of Power 98FM have been making waves and are poised to be the next generation of radio superstars.
Just tune in to their shows, and their words and antics are sure to amuse you and brighten your day.
The following is an interview with these Power 98 DJs, to give you an idea of what you'll be in for.
What has been going on for you, apart from your show?
Sonja: Getting ready for the two Ts in my life that I can't live without: Theatre and Travel! I just booked my tickets for a girls' trip in November to Margaret River in Perth where I'll be enjoying another love of my life, good wine.
As for Theatre, I'm getting ready to start rehearsals at the end of the year for a fantastic play called "Firecrackers and Bombshells", which will be running at the Arts House in Jan 2014.
Mike: Loads of exciting stuff. What most people don't know is that there's a lot that goes on behind the scenes. An example would be producing Radio Box Office on Power 98 – a segment where I preview and review new movies every week. DJs are also hired as hosts and emcees for various events which are always fun to do.
JK: Work is 24/7! If I'm not on air, I'm usually hosting events, producing segments, trailers, commercials or thinking about the show and how to make it better all the time.
What's new for you at Power 98?
Mike: I'm now hosting a brand new night show with my awesome co-host, JK, called The Night Drive and it's been such a blast talking about real issues that people on the street talk about all the time, from dating and relationships to current affairs, all with great sing-along music to boot!
JK: I have to admit that co-hosting with Mike is quite literally an absolute breeze! I can be myself with no pretentiousness or fake personas; we get each other and whatever that goes out on air is 100 per cent honest, down to earth and real.
Who is your musical icon?
JK: My mum. No matter how terrible her singing is, she isn't afraid to take on the microphone and hog it every time the karaoke machine at home is turned on. Confidence man, confidence.
Mike: I'd have to say that the one person I've always looked up to in music is Jason Wade, the lead vocalist of Lifehouse. Not only is he possessed of pure, raw talent that includes singing and writing music, he's also incredibly down to earth and keeps it real. Total champ, in my opinion.
Sonja: Having to pick one group or artist is like asking a parent to choose a favourite child. Each artist or group fulfils a different part of me. A few names that come to mind are Blur, Portishead, Katy Perry, Kelly Clarkson, The XX, Radiohead, Elvis Presley, The National, Jamiroquai, Red Hot Chili Peppers, Kanye West, The Rolling Stones… aaah, I can't stop!