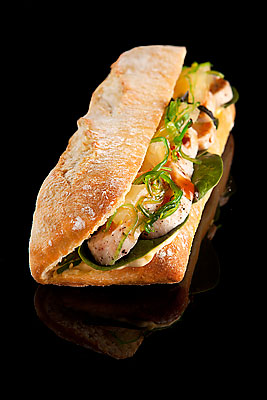 Delifrance celebrates 30 years in Asia with a Michelin sandwich, no less
By Cheryl Chia
Celebrating 30 years of bringing French bakery fare into Asia, Delifrance has launched its first Michelin sandwich, "Le Paris-Singapore".
Created by Michelin-star chef brothers, Jacques and Laurent Pourcel from Montpellier, this creation gives the word "sandwich" a whole new meaning.
Michelin Chefs
Chef Jacques was in Singapore to show off his creation. The sandwich is filled with French baby spinach, roasted chicken with Thai chilli sauce, pineapple slices, wakame, and mayonnaise and oyster sauce spread in between a classic French baguette.
The twin brothers run the restaurant Le Jardin des Sens in Montpellier as well as others in Bangkok, Tokyo, Shanghai, Geneva, Marrakesh, Casablanca and Paris. The "Le Paris-Singapore" sandwich uses specially-imported baguettes from France, which has an aroma of fresh cream and almond.
A Different Sandwich
We found the sandwich an acquired taste with the wakame and the savoury oyster sauce mayonnaise, but the pineapple slices and chicken pieces helped create more texture and added sweetness.
To complement the Michelin sandwich, Delifrance has also partnered with fellow French company Monin to create two sparkling drinks: Le Spicy Mangue Collins and the Pink Grapefruit & Elderflower Spritz.
The Le Paris Singapore sandwich is available in select Delifrance outlets such as at Raffles City and Jem, until Aug 31.