Here is the curated ideas guide. It includes the best presents for your foodie friends and family!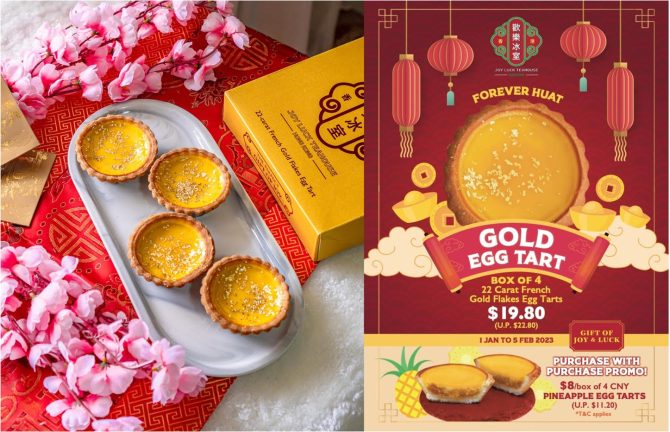 1. JOY LUCK TEAHOUSE's 22K French Gold Flakes Egg Tarts
Joy Luck Teahouse's 22K French Gold Flakes Egg Tarts are speckled with 22-carat edible French gold flakes. It is coated on your favourite Joy Luck Teahouse egg tarts with a sparkle of abundance, prosperity and luck.
Available in a box of four at the auspicious price of $19.80 (UP $22.80), they come in a classy golden box perfect for gifting. Especially for corporate clients. Each box wishes its receiver to forever Huat this Chinese New Year of the Rabbit! With every purchase of a box of four 22K French Gold Flakes Egg Tarts, you are entitled to one box of four Fortune Pineapple Egg Tarts at the special price of S$8 (UPS$11.20).
Available from now to 5 February 2023 so get your hands on them while you can!