Not all bacteria is bad. Find out which bacteria or  probiotics are are good for your health
There are more than 500 different types of bacteria in your digestive tract. Before you start to get disgusted, fear not, not all of these bacteria are bad for your body.
Some of these bacteria actually help you to maintain your health. These beneficial bacteria are called probiotics.
What Exactly are Probiotics?
Probiotics are considered "friendly bacteria" that help to keep intestines healthy and to assist in the digestion of food. Probiotics are also needed to synthesise Vitamin K, folic acid, as well as Vitamin B12.
Probiotics provide health benefits to you as they suppress the growth of harmful bacteria by lowering your intestinal pH, in order to keep the population of harmful bacteria in check.
Probiotics also support the immune system. A healthy person generally maintains a right balance of the gut "flora".
Probiotics can be found in cultured products such as yoghurt, miso soup, dark chocolate and even tempeh – a type of food made from fermented soy bean.
How Probiotics Work
Antibiotics destroy both the pathogenic and friendly bacteria, and disturb the balance of friendly bacteria in the gastro-intestinal tract.
Probiotic supplementation will be useful, following antibiotics by at least two hours. This can help to strengthen your constitution.
The most common strains of supplemental probiotics are Lactobacillus (e.g. Acidophilus) and Bifidobacterium. Products containing more strains of probiotics may be more attractive because different strains of probiotics provide different health benefits.
Please note that different strains may work together in synergy. Certain strains may not be able to colonise in some people while other strains may be able to do so.
Probiotics are efficacious only if they survive the stomach acid and bile degradation as they pass through your gastro-intestinal tract. Probiotic supplements usually contain several billions of microorganisms in order to ensure that adequate gut colonisation takes place.
So, you don't have to worry. Probiotic supplements will definitely be effective enough to do the job that they have been designed to.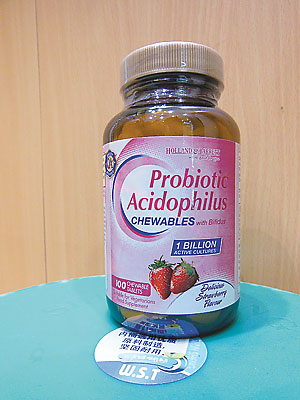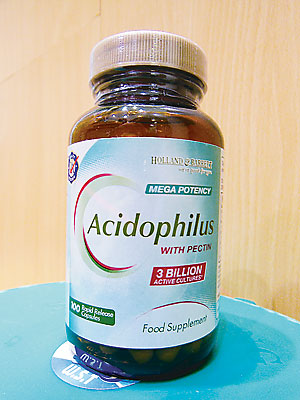 Where to Get Probiotics
Holland & Barrett probiotic supplements are obtained from a frozen bacterial culture which is of a vegan source.
Holland & Barrett Probiotic Acidophilus Chewable comes in strawberry flavour and is formulated for children over three years of age.
For adults, try the Holland & Barrett Mega Potency Acidophilus which provides four different bacterial strains and 3 billion active cultures per capsule.
The store also carries a third-party brand of probiotic product called Forever Young – Probio 7 Advanced Formula. Each capsule of Probio 7 provides you with 10 billion bacteria, eight different bacterial strains and two types of prebiotic fibres.
Prebiotics vs. Probiotics
Prebiotics are non-digestible carbohydrates that can be used as afood source for probiotics. Prebiotics can be found in foods such as bananas, as well as in whole grains.
Probiotics are generally safe products. However, there are side effects including bloating and flatulence.
Check with your doctor if you are considering adding supplements to your diet, in order to ensure that you find the correct supplement for you, and to ensure that you will always be in the pink of health.
Visit Holland & Barrett stores island-wide to find out more.
More on Probiotic Foods
Here are some foods that you can incorporate into your diet to increase the amount of probiotics in your body.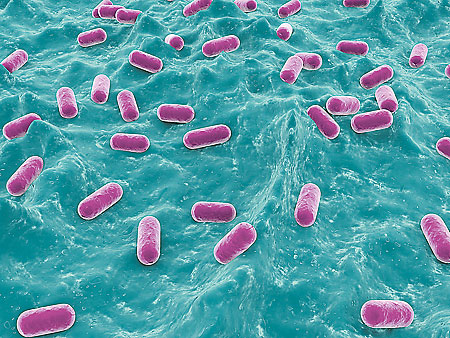 Live-Cultured Yoghurt
Always pick yoghurt with live cultures. Most types of yoghurt in the market have fructose and sugar, making them high-caloric food instead of being healthy.
Sauerkraut
Usually made from fermented cabbage, sauerkraut, a German speciality, is rich in healthy live cultures and may help in reducing allergy symptoms.
Miso Soup
Miso, one of the mainstays of Japanese cooking, is commonly used in macrobiotic cooking as a digestive aid.  Made from fermented rye, beans, barley or rice, the soup is full of lactobacilli and bifidus bacteria. It is also nutrient dense.
Kimchi
This Korean fermented vegetable has beneficial bacteria. It is also a great source of beta-carotene, calcium, iron and other vitamins. This is more reason to visit Korean eateries.
Dark Chocolate
Some dark chocolates contain probiotics. Do check labels carefully before buying any dark chocolate you come across. Dark chocolate is also said to regulate blood sugar and to be full of antioxidants.
Micro-Algae
Powdered forms of these micro-algae such as spirulina, chorella or blue-green algae can be found at many health food stores. A spoonful in your juice or milk helps to increase good bacteria.
Supplements can also help to give you a regular intake of probiotics to keep you healthy. Holland & Barrett supplements are available at all Holland & Barrett stores, subject to item availability. Visit www.hollandandbarrett.com.sg for more details on promotions and store locations.