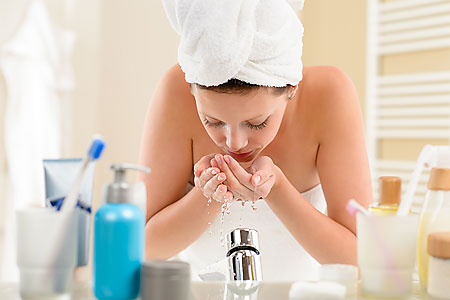 With the skin being the largest organ on our body, it is also the most noticeable when it starts heading south. Weekender consolidates the best of skin care tips for your easy reading
By Cheryl Chia
Despite the hectic schedule of our daily lives, neglecting to care for ourselves is a major no-no. Put your best face forward today with these quick tips.
1. Never skip the sunscreen
I once met a model in his early 30s who was still out-performing his younger counterparts due to his youthful looks and he credits this to his religious usage of sunscreen since he's been a teenager. Using sunscreen is of the utmost importance, harmful ultra-violet A and B rays from the sun cause pre-mature aging and even skin cancer. The higher the Sun Protection Factor (SPF) doesn't mean you're getting more protection. For example, if 20 minutes in strong sun is all it takes for you to get burnt, SPF 15 increases your resistance 15 times longer.
2. The three-step routine is sacred
Don't be lazy! The standard three step routine consists of cleansing, toning and moisturising. Many people add more on to that routine as they get older to suit their skin care needs. Cleansing your face with good quality face wash is key to keeping your skin clear, toning acts as an astringent to remove dead skin cells and moisturising hydrates and prolongs supple skin.
3. Get your beauty sleep
Missing a few hours of sleep not only turns people into grouches, it also cause raccoon eyes and crow's feet. The concept of "beauty sleep" rings true as that's when your body repairs itself by producing protein regenerates skin cells. Not to nag, but eight-hours a night is all you need to be rested and revitalised.