A fun day of learning more about road safety reaps rewards
AIG Asia Pacific Insurance Pte Ltd (AIG) recently held the AIG DriveSafe Challenge to teach people more about the importance of road safety in Singapore.
More than 300 participants turned up for a fun day of engaging challenges.
Donation to Further Road Safety
In conjunction with this event AIG donated $15,000, which comprised partly of the registration fees collected, to the Singapore Road Safety Council in support of its mission to improve safety on Singapore roads.
Bernard Tay, Chairman of the Singapore Road Safety Council said, "The turnout for today's event was fantastic and I was impressed by the enthusiasm demonstrated by all teams."
"AIG's generous donation will be an essential investment in our on-going effort to make the roads safer for drivers, motorcyclists, cyclists and pedestrians," he added.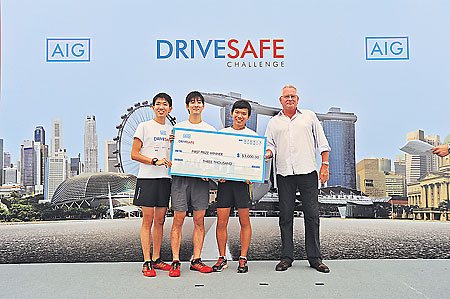 $6,000 Reward for Winners
Guest-of-Honour, Associate Professor Muhammad Faishal Ibrahim, Parliamentary Secretary for Ministry of Transport and MP for Nee Soon GRC, waved the chequered flag to kick-start the event, which took place at The Grandstand on Turf Club Road.
A total of $6,000 in cash prizes were awarded to the top three teams. The champions of the day were the team led by Fabian Ng Pek Chun from Nanyang Technological University (NTU).
The competing teams drove to six locations around the island where they successfully completed a selection of fun challenges that put their road safety knowledge to the test.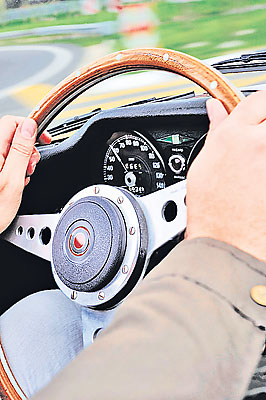 About Singapore Road Safety Council
The Singapore Road Safety Council (SRSC) was set up in 2009 by the Ministry of Home Affairs, and supported by the Ministry of Transport, Land Transport Authority (LTA), and other road safety-related stakeholders.
---
 Road Safety Statistics for Singapore
From the Traffic Police:
• Last year, there were 327,503 cases of road safety violations in Singapore – 3.6% more than in 2011.
From the General Insurance Association:
• There was a 3% reduction in cases reported in 2012 compared to 2011 (157,471 down to 152,845 cases).
• Personal injury accidents reported involving young drivers below 25 years remain high. There were 1,900, 2,075 and 1,789 cases for the years 2010, 2011 and 2012 respectively.
From AIG:
• Over the past five years, AIG has seen bodily injury claims increase 11% on average per year.
• Based on statistics, the age segment below 22 is twice as likely to get into an accident (involving bodily injuries) compared to drivers aged above 30 years old.
• Motor accident claims received by AIG which involved cyclists doubled from 2010 (77) to 2012 (166).
• In the first six months of 2013, the number of cyclist-related motor accidents exceeded the total for 2012 by 30%.