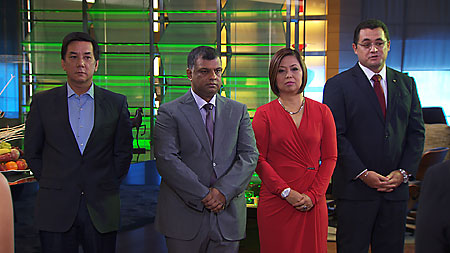 In the sixth episode of Apprentice Asia (This wed, jun 26), contestants face the challenge of delivering hospitality services for Hilton KL. Disappointments could result in dire consequences
After the previous week's challenge of virtual trading over 24 hours, the sixth episode of Apprentice Asia features both teams – The Mavericks, and Apex – managing a part of the Hilton Kuala Lumpur Hotel for one day.
They are tasked with housekeeping duties for three rooms, check-ins for three sets of guests, and room service for part of the hotel's guests. Both teams are sent for training sessions, and receive a folder detailing exactly how the rooms have to look like.
Tension Mounts as mistakes arise
Due to Nash's past experience in housekeeping, he and Dian run housekeeping. However, he forgets the room keys, and obsesses over the details while cleaning the first room, such that they finish up just before their first guest arrives.
Next, they prepared the second room without the housekeeping folder as Dian had mistakenly left it at the front desk. They weren't ready when their second guest, a Hilton HHonors Diamond Elite member arrives, exhausted and annoyed, for her birthday.
Tension mounts as Nash and Dian deal with the situation, with their third guest arriving to a long wait before his room is ready.
Bossy Leader Upsets Team
Having been a hotel consultant, Celina heads the team, with Sam and Alex handling housekeeping. None of the rooms are ready
in time, so when the third guest – a Hilton HHonors Diamond Elite member – arrives, with the second guest still waiting, Celina snaps.
She phones her team to finish up "immediately" as she tries to placate the guests. Kathleen notes that Celina's smile "comes across as very fake".
Both Teams Mess Up
Next, Sam and Alex are busy with room service. However, Celina keeps calling them to check on their progress, so Alex complains that she is slowing them down.
An epic miscommunication occurs with the Mavericks, resulting in the wrong order being placed and Nash does something unauthorised.
What does he do, and which team does Hilton pick as the better hospitality team? Why does Tony eventually lose his cool? Watch Apprentice Asia this Wednesday to find out!
Apprentice Asia airs every Wednesday, 9pm, first and exclusive on AXN (StarHub TV Ch511 and in HD on Ch559).