Is this the real life? Or is this a conspiracy?
Cover image: Courtesy of One
In what seems to be a never-ending rollercoaster ride we never wanted to board in the first place, South Korean variety show "Running Man" has been reinstated and will continue to run past its cancellation date as previously announced.
Yes, that's right: "Running Man" is officially uncancelled. Daebak.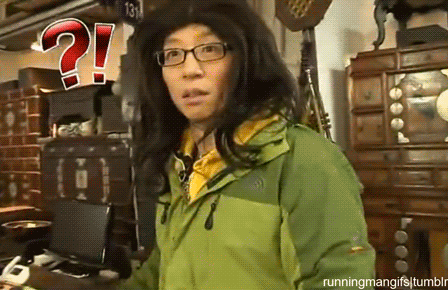 Photo: Giphy
The announcement was made by SBS, the channel that owns and runs the show. It issued the following statement:
"Running Man will continue to air with all the members in place! Due to the overwhelming sadness of both Korean and international fans over the end of 'Running Man', SBS and the six members have decided to continue the Running Man series.
SBS' Chief of Headquarters, Nam Seung Yong, who originally created the show in 2010, has been meeting with the cast since the beginning of the year until recently to have deep conversations [about 'Running Man'].
Through these conversations, he apologised to the members over and over again for the incidents that happened during the re-formatting of the show. The six members agreed to stay on the show [after these discussions]."
Photo: We Heart It
As stated, the show will continue to run with the final six members in its line-up. This excludes rapper Kang Gary, who had previously left due to scheduling conflicts.
SBS Chief of Headquarters, Nam Seung Yong, also issued a separate statement:
"I sincerely thank the 'Running Man' members who made the difficult decision to stay on the show. In order to repay fans who loved and supported the show for the last seven years, we will do our best to make 'Running Man' even more enjoyable."
Photo: One
The saga revolving around "Running Man" first began when former member Kang left the show for external reasons. This was shortly followed by the shocking announcement on 13 Dec that fellow members Kim Jong-kook and Song Ji-hyo had been kicked off the show without their knowledge.
Two days later on 15 Dec, SBS confirmed that "Running Man" will be cancelled, with the last episode to air in the first week of this month. There was also to be a tour across Asia that would run until March. Soon after this announcement, Kang revealed that he would be making a comeback to "Running Man" for a special episode.
It has not been confirmed if these scheduled developments will still occur following this latest announcement that the show will go on.
"Running Man" is available on Viu and airs every Friday, 11pm, on One (Singtel TV Ch 513 & 604, StarHub TV Ch 124, 820 & 823).