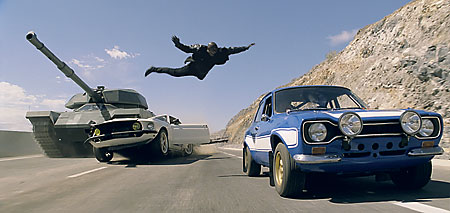 The Fast & Furious franchise is back yet again with more fast-flying action, incredulous stunts, and drool-worthy babes
Vin Diesel, Paul Walker and Dwayne Johnson lead the returning cast as the blockbuster franchise built on speed races to its next continent, in Fast & Furious 6.
Reuniting for their most high-stakes adventure yet, fan favourites Jordana Brewster, Michelle Rodriguez, Tyrese Gibson, Sung Kang, Gal Gadot, Chris "Ludacris" Bridges and Elsa Pataky are joined by newcomers Luke Evans and Gina Carano.
The Story So Far
Since Dom (played by Vin Diesel) and Brian's (played by Paul Walker) Rio heist toppled a kingpin's empire and left their crew with $100 million, our heroes have scattered across the globe.
Meanwhile, Hobbs (Dwayne Johnson) has been tracking an organisation of lethally-skilled mercenary drivers across 12 countries, whose mastermind (Evans) is aided by a ruthless second-in-command revealed to be the love Dom thought was dead, Letty (Rodriguez).
The only way to stop the criminal outfit is to outmatch them at street level, so Hobbs asks Dom to assemble his elite team in London. Payment? Full pardons for all of them so that they can return home and make their families whole again.
Building on the worldwide blockbuster success of Fast Five and taking the action, stunts and narrative to even greater heights, Fast & Furious 6 sees director Justin Lin back behind the camera for the fourth time. He is supported by long-time producers Neal H. Moritz and Vin Diesel, who welcome producer Clayton Townsend back to the series.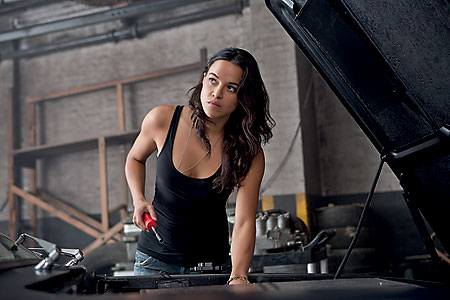 The Fast & Furious Franchise
Fast Five's unexpected take on Dom, Brian and their extended family pulling off a daring multi-million dollar heist with a hard-nosed federal agent hot on their trail was the ultimate thrill ride for audiences in April 2011.
The film debuted in the USA to $86 million during its opening weekend and set a record best for Universal Pictures. Not only was it the highest-grossing film for that weekend in motion picture history, it bumped the previous entry, Fast & Furious — with its $70.9 million opening in 2009 — to the No. 2 spot for record breakers.
Fast & Furious reinvigorated the series with beloved characters and an engaging storyline that hearkened back to its roots, and the action-thriller built upon that winning formula by injecting new heroes and elements into the storyline. Introducing Dwayne Johnson as Luke Hobbs upped the stakes for the crew of antiheroes and expanding the scope of the film's action proved to be an irresistible combination that electrified audiences, new and old alike.
Fast Forward
It's been more than a decade since The Fast and the Furious introduced audiences to Los Angeles' gritty underground street-racing scene, and with each subsequent chapter, the stakes have grown higher with compelling storylines and the introduction of new characters.
Townsend reflects: "We've long explained that the movies were not released in sequential order, but all those pieces will be revealed. It will be quite an experience to sit in theatres on opening day and watch die-hard Fast fans get the surprise of their lives."
Fast & Furious 6 [PG13]
Director: Justin Lin
Starring: Vin Diesel, Paul Walker, Dwayne Johnson, Jordana Brewster, Michelle Rodriguez, Chris "Ludacris" Bridges, Elsa Pataky
Genre: Action-Thriller
Run Time: 130 min
Release: 23 May