Power 98FM DJ Elliot Danker takes us on a drive through a memorable F1 season
The Formula 1 season ended a few weeks ago. Now, teams will focus their attention on the new v6 engines that will debut in Melbourne, some time in March next year.
Before all that, let's take a look at some of the most memorable moments from this season.
Perfect Marriage Between Man & Machine
The title of the perfect marriage between man and machine has to go to Sebastian Vettel and his RB9, and the minister who facilitated this marriage has got to be Adrian Newy.
We always knew that Red Bull would be right up there but to be as dominant as they were in 2013 was just amazing. I mean, with 13 wins and out of that were 9 victories in a row, it felt like a trip back in time when the great Michael Schumacher powered through every race for Ferrari.
Speaking of Ferrari, they looked like serious contenders in the early part of the season but slowly faded away. It's unfortunate because they've got a really great driver in Fernando Alonso so he'll be hoping for a better car, perhaps in 2014.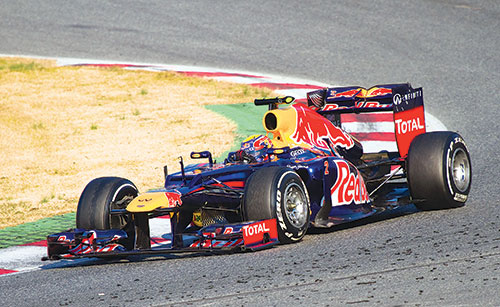 Driver of the Year
Yes, everyone will say it has to be Sebastian Vettel simply because he won the drivers' championship. But, for me, I'd say it was Kimi Raikkonen.
The guy didn't have the fastest of cars, and he didn't always start in pole position, yet he always seemed to get on the podium. There were races where he was in the bottom half of the field and was still able to finish second.
It's that sort of consistency that makes him such a great driver. Even towards the end of the season when he had a back injury, he still pulled some amazing races before eventually having to need treatment.
Plus, you know he's just so cool, especially with his deadpan responses at press conferences. I actually met the guy while I was at the paddock during the Singapore GP and the vibe I got was that, for this guy, he's just there to do a job.
He doesn't care for the glamour; he just wants to show he's the best. I'm really looking forward to his return to Ferrari next season.
Best Moment
The best moment is kind of bittersweet, actually. For much of the season, I had hoped to see Mark Webber win a race and he almost did in Malaysia. When he announced his retirement from F1, fans of the sport knew they were going to lose one of the nicest guys on the grid.
I've actually interviewed him and hosted for him three times and, every year, when he comes back he remembers me. It's really nice to know how down to earth this superstar is.
Webber is very professional at his job, and everyone loves his one-liners at press conferences.
So, the best moment of the season has to be when he finished 2nd at the Brazilian Grand Prix, and being able to see him on the podium one last time.
Of course, who can forget how he took off his helmet when he crossed the finishing line, cruising a lap around the circuit with the wind in his hair.
Formula 1 will certainly miss you, Mark!
Catch Elliot Danker on weekdays, from 10am to 2pm, on Power 98FM.
Top photo: Studio 1a Photography    Bottom photo: Natursports      Photos from Shutterstock.com