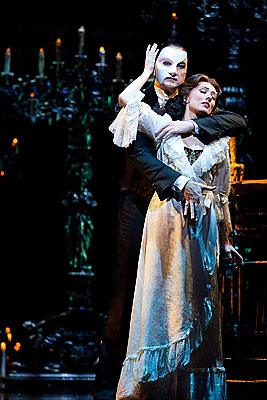 The Phantom of The Opera returns, as captivating as ever
The Phantom of The Opera, one of the most successful and longest-running shows on Broadway, has returned to Singapore and begun its run at the MasterCard Theatres at Marina Bay Sands.
27th Year
Andrew Lloyd Webber's critically-acclaimed masterpiece is currently in its 27th year and will run until Sep 1 in Singapore.
Producer Kerry Comerford of The Really Useful Group – owned by Webber himself – says, "The Phantom of The Opera is an exceptionally unique musical for so many reasons and it sits in a class of its own. It has received incredible acclaim over the years, and to this day remains unrivalled by other musicals in its world-wide successes."
One of the most famous Broadway incarnations featured Sarah Brightman and Michael Crawford.
Haunting Plot
The Phantom of the Opera tells the story of a disfigured genius who haunts the Paris Opera House. Mesmerised by the talent and beauty of Christine, a young soprano, the Phantom lures her to be his protégé and falls in love with her, unaware of Christine's love for Raoul, her childhood friend.
The Phantom's obsession sets the scene for a dramatic turn of events where jealousy, madness and passions collide.
Some of the memorable songs from the musical include "The Phantom of The Opera", "Music of The Night", and "All I Ask of You".
Tickets start from $55, up to $230, and exclude a booking fee of $3 a ticket. Book your tickets through www.BASEentertainmentasia.com or www.MarinaBaySands.com/Ticketing, or call 6688 8826.