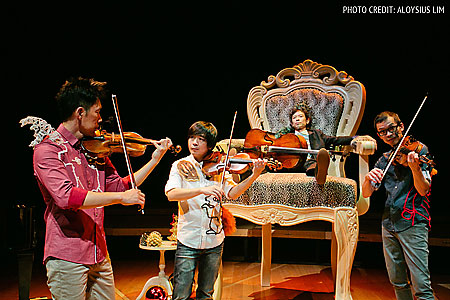 Singaporean string maestros T'ang Quartet speak with us on their recent adventure  in France
By Cheryl Chia
Formed in 1992, the veteran players of the T'ang Quartet – Ng Yu Ying (Violin), Ang Chek Meng (Violin), Lionel Tan (Viola), and Leslie Tan (Cello) – were individually trained in London and Moscow. They have been much heralded in local and foreign press alike over the years. We speak to them about their latest adventure.
What has T'ang Quartet been up to lately?
Yu-Ying: We went to Auxerre, France for a concert; a collaboration with another quartet (Manfred Quartet) from France, playing great classics like Mendelssohn's Octet and Brahms' Sextet! Next up, we will be headed for a concert in Suzhou, China.
Lionel: Yes, we went to do a concert in France and immediately after that it was a sprint to the finish line for our mentoring programme – The Ensemble Dimension Project's Highly Strung 2. We featured talented youths performing alongside us in that concert.
Who are your musical icons and why?
Yu-Ying: There are many great musicians in the world whom I admire and I have been fortunate enough to have either had lessons from or worked with a few of them. But there is only one who has influenced me the most throughout my musical life. He made me believe in myself, even with my limited ability and talent at such a young age – if I truly love what I do, I will succeed! He is none other than my mentor and dear friend, Mr Jiri Heger.
Chek Meng: Though I am a classical musician, my musical icon is Freddie Mercury from Queen. I really admire his energy and sheer electrifying personality. Good music exists in all genres and I really think that people will always remember his songs.
What has been the most memorable on the job?
Yu-Ying: Well, we were not quite on the job but, rather, on the way. We were travelling in the United States, driving from Boulder, Colorado to Aspen for a two-month residency programme at the Aspen Festival. We stopped at the Independence Pass in the Rocky Mountains to have a quick look and take some pictures.
Shortly after, Chek and I continued our drive to Aspen. I lit up a cigarette, smoking as I drove. A few minutes later, I stupidly tried to throw the cigarette out of the window, only to have the cigarette fly right back onto my shirt collar. I flipped out and lost control of the steering wheel and the car went off the cliff! It went tumbling down, rolling over three and half times before finally landing upside-down! Right then, I had almost killed half the T'ang Quartet!
Oh my! Then what happened?
Yu-Ying: We ended up arriving at the Aspen Festival in an ambulance. Fortunately, we had only gotten minor bruises, and Chek had gotten a small hairline fracture on his elbow. So, a lot of people at the festival knew and heard about the T'ang Quartet without us playing even a single note! I hope by now Chek's wife has forgiven me.
What is the best part of being in the T'ang Quartet?
Chek Meng: Best part of being in the quartet is being able to enhance the musical landscape in Singapore. It has been a wonderful journey so far and with every project we have undertaken (be it a concert or imparting our knowledge to the next generation), I would like to think we have enriched someone's life.
How has the Singaporean classical music scene changed since T'ang Quartet started?
Leslie: There are a lot more local musicians and a lot more performing groups now and there is the Yong Siew Toh Conservatory of Music – I never thought I would see that in my lifetime. Those are really exciting and wonderful developments. But, on the flip side, many parents still want their kids to pursue a less creative career path. Creativity is not valued in Singapore. We talk about it but many shy away from it.
What advice would you have for budding musicians?
Leslie: Only you can make the change! Do it now! Don't worry about tomorrow!
What would you like to say to all Singaporeans?
Lionel: Let the arts add some imagination and enrich your existence. Even a boring performance can be thought provoking.
Leslie: Don't be so focused on material things like money, and don't be afraid of having an opinion. And, speak up!
Chek Meng: Please make art a part of your lives. It's wonderful that we work hard to provide for our families, but time spent visiting art galleries or attending concerts can bring lots of joy too.