We bring you the best places to celebrate Mid-autumn Festival in Singapore!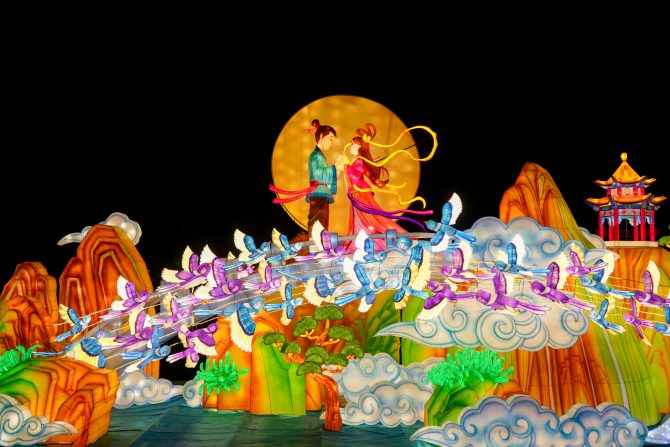 1. Thousands of Lanterns Light Up Gardens by the Bay
Experience the enchanting Mid-Autumn Festival at Gardens by the Bay, running until 1 October 2023!
This year's celebration is grander than ever, boasting nine captivating lantern sets inspired by the rich tapestry of Chinese mythology, legends, and cultures, all connected by the theme 'Garden of Blooms' (花缘). Step into the Golden Garden, where you'll find the eponymous 'Garden of Blooms'(花缘)lantern set. Here, a 7-meter tall moon gate leads to a boulevard adorned with 12 peach blossom trees, symbolizing springtime and romance.
For the first time, the Gardens is collaborating with the Royal Thai Embassy to showcase Traditional Lanna Lanterns (传统兰纳灯笼). Near the Floral Clock, 'The Butterfly Lovers'(化蝶)tells the poignant love story of the star-crossed lovers Liang Shanbo and Zhu Yingtai, who are reunited in death and transformed into a pair of butterflies that will forever remain together.
At Supertree Grove, don't miss the Pavilion(凉亭), a lantern set that also serves as a performance stage—a first at Gardens by the Bay. Throughout the festival, cultural performances featuring music and dance will grace this stage every Friday to Sunday.
Savor delectable Asian street fare at Food Street in Supertree Grove, and engage in curated cultural activities and workshops in the Cannonball room.
Mark your calendars for 29 September 2023, the actual day of the Mid-Autumn Festival on the Chinese lunar calendar, when there will be an extra lantern giveaway at Supertree Grove, available while stocks last.
For more information, please click here.