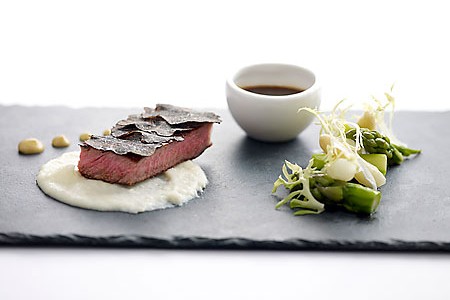 Italian restaurant Buona Terra's Spring menu serves up hearty seasonal delights
By Cheryl Chia
Take your father out on Father's Day for a delightful Spring meal at Buona Terra. The gourmet Spring Menu offers an array of mouth-watering and tantalising dishes, specially put together by Chef Denis Lucchi, lasting until mid-July.
Chef Denis – formerly from Garibaldi – has put together a seven-course meal filled with fresh ingredients, mostly imported from Italy. The Spring Menu ($128) starts off with an amuse-bouche – it was a parmesan crème brulee with croutons the day we were there – before going into the first starter of the Fiore di Zucca con Granchio Reale e Creama di Piselli, a King Crab stuffed zucchini flower with broad beans cream.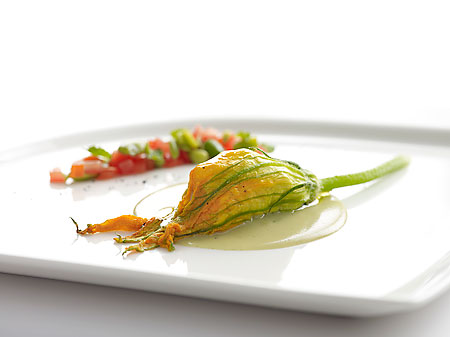 The second starter of the Lingua di Vitello Croccante con Insalata Primaverile made me a bit squeamish. It was crispy slow-cooked veal tongue on a bed of Spring salad. Of course, they don't present the whole tongue to you; it looks almost like foie gras. If you like fatty and tender meat, perhaps the tongue might be the best cut from the veal for you.
The third dish is what Chef Denis humorously calls the Italian 'hae mee'. A Taglini con Gamberi Rossi e Passata di Porro – a homemade pasta with red prawns and leek cream. The heady scent of the prawns was paired with the pasta, so an Italian 'hae mee' it was.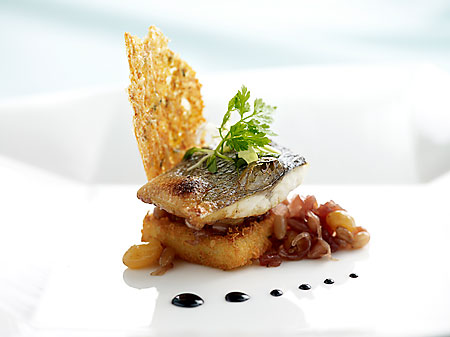 The two main dishes comprised a Branzino di Orbetello in Saor – a crispy sea bass with fried polenta and sour-sweet onions – and the Tagliata di Manzo Wagyu Affumicato, Asparagi e Tartufo Nero – a tender smoked Wagyu beef strip loin with a side of asparagus and black truffles imported from Tuscany.
We loved the beef steak cooked at medium rare; the tender and juicy strip loin needed no seasoning. It was so good on
its own.
Every set menu has to come with a dessert. The Insalata di Fragole con Panna Cotta alla Vaniglia, Pistacchi e Crema di Ricotta was a creamy panna cotta topped with a strawberry salad and pistachio and ricotta cream. The ice-cream on top of the panna cotta was Moscato-flavoured. Two thumbs up for that one. The meal then ends with a serving of petit fours.
An in-house degustation menu is also available for $128. Buona Terra also has an extensive wine list to suit every budget.
Buona Terra is located at 29 Scotts Road, Singapore 228224. Open from 6.30pm to 10.30pm, Monday to Saturday. Tel: 6733 0209