The time for mooncakes is upon US once again. We taste some that are good, bad or literally look butt-ugly. Enjoy!
By Cheryl Chia
There are many variations of the origins of the Mid-Autumn Festival. Legend has it that in the ancient past ten suns shone in the sky, burning crops and causing drought.
Hou Yi, the mythical hero, shot nine out of the ten suns out of the sky and earned the gratitude of an immortal. The immortal then sent him an elixir of immortality.
Hou Yi, who married Chang-e, did not want to be immortal without her. Thus, he let her keep the elixir. Unfortunately, his apprentice attempted to steal the elixir.
Chang-e swallowed the elixir to prevent it from falling into the wrong hands. What happened next was that she became immortal, and the Goddess of the Moon.
Since then, the Mid-Autumn Festival has also included activities such as lantern riddles – the unmarried daughters of the rich used this occasion to show off their single status by walking around with a lantern – and mooncakes for luck.
For you, we have braved the good, the bad and the butt-ugly and we give you our review.
Bakerzin
Bakerzin has five collections to suit every taste. They have also introduced the brand new Sweet Pleasure Snow Skin ($88 for eight) – a miniature version of the Sweet Pleasure cake from Bakerzin – that comes in a fine coat of cocoa powder, decadent Valrhona chocolate and a base of pailleté feuilletine, a French biscuit.
Customers enjoy 15 per cent off on online orders. Visit www.bakerzin.com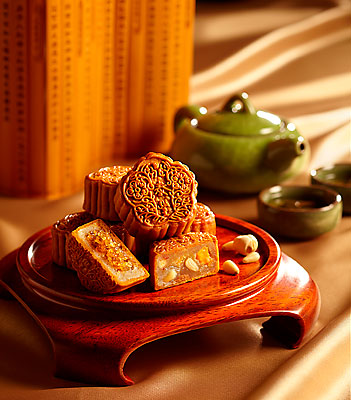 Din Tai Fung
Traditionalists, look no further than Din Tai Fung for your traditional baked mooncakes. The small size also makes this treat less cloying.
They comes in two flavours of White Lotus Seed Paste with Taiwan Songshan Pineapple Filling and White Lotus Seed Paste with Pine seeds, Orange Peel and Quarter Yolk ($23.80 for four).
There is a 10 per cent discount with a minimum purchase of two boxes, until Aug 15. Visit www.dintaifung.com.sg
Goodwood Park Hotel
These fruit snow skin mooncakes are unconventional and highly-different from the usual type. Their new flavour of Pink Guava with Passionfruit and Rambutan ($26 for two, $46 for four) is a refreshing balance of tropical fruit flavours.
They have also included a limited edition Red Prawn Durian ($37 for two, $62 for four) in their durian treats. From Aug 5 to 11, buy any box and get the second at 50 per cent off. The second box must be of equal or lower value.
Cherry Garden
Cherry Garden at Mandarin Oriental Hotel has a new Homemade Mooncake with Green Tea Paste and Japanese Kyoho Grapes ($62 for four). Signature favourites such as the Snow Skin Mooncake with Lychee Martini Truffle ($62 for eight) are also back to tantalise. Call 6885 3541 for orders. Available until Sep 19.

Raffles Hotel
Apart from the highly sought after Snow Skin Mooncake with Champagne Truffle & Ganache ($68 for eight), this year, they have added the Snow Skin Rum and Golden Raisin Mooncake ($64 for eight) and the Snow Skin Kaffir Lime Mooncake ($64 for eight).
Online orders have commenced. Visit www.rafflesmooncakes.com to order.
Hua Ting Restaurant
Hua Ting's Masterchef Lap Fai has created a "healthier" mooncake with their Mini Snow Skin Purple Sweet Potato Paste ($8 a piece, $56 for eight) and the Mini Snow Skin Purple Sweet Potato Paste with Chocolate ($9 a piece, $64 for eight). Other flavours are available. The sales counter will be at Orchard Hotel until Sep 19.
Haagen Dazs
Since 1997, when the ice cream mooncake was introduced, Haagen Dazs has continued to make ice cream mooncakes in four flavours – Chocolate, Strawberry, Macadamia Nut and Cookies & Cream – with a mango sorbet 'yolk', and encased with a praline base and lush chocolate coating ($48 for two, $68 for four). Available until Sep 30 at all Haagen Dazs outlets.
Au Chocolat
Okay, these aren't the traditional mooncakes. These are actually cheesecakes but we love the Rum & Raisin White Lotus ($18 a piece, $68 for four) with a rich lotus paste swirled with rum. Other flavours include the Pandan Kaya, the 5 Nut Au Chocolat and the Double Salted Yolk that was pretty good.
Man Fu Yuan
Man Fu Yuan at Intercontinental Hotel launches a brand new Pulut Hitam mooncake, available as part of their four-piece collection of Snowskin Mooncake Combination ($53.80 for four), with other flavours such as the aromatic Green Tea Paste with Dragonball Jasmine tea infused snowskin, smooth White Lotus with Macadamia Nuts and rich Sesame Paste with White Sesame Seeds.
They are available for online order at www.facebook.com/ICSingapore or at the Teahut at the hotel.
Goods of Desire
These mooncakes from Goods of Desire are literally butt-ugly. These mooncakes are butt-shaped and "moon" us from the box.
Produced by Mei-Xin Fine Goods, these butt mooncakes contain velvety lotus seed paste with a single salted egg yolk ($14.50 for a piece, $52 for four). You can place orders in advance, from Aug 23. Email singapore@goodsofdesire.com to order.
When getting your mooncake, remember not to judge a book, or butt, by its cover.