Where can you find great hearty Western and Eastern favourites under one roof to satisfy everyone? In Sin Ming, of course
by Frank Young
The owner of New Ubin Seafood Restaurant, Mr Pang, is the sort of man who greets and converses with his guests while they dine in rustic, Ubin Island-style comfort. He is also very passionate and inventive in terms of the food served at the restaurant.
The menu and selection available in New Ubin Seafood Restaurant reflects his belief that Singapore cuisine is a combination of different cuisines and influences, with local twists added along the way. In his restaurant, he breaks with zi char tradition by adding Western fare and influences into his authentic zi char offerings.
With a menu spanning over 13 pages (not including the wine list) of East and West dishes, it's no wonder that they are a favourite among large groups of diners looking for good food and good wine. Indeed, it is notable that the restaurant does not charge its customers corkage, so BYO [Bring Your Own booze] is encouraged.
Here are just a few of the most popular signature dishes.
Hearty Western Favourites
German Pork Knuckles ($26/piece) is a dish worthy of a Kaiser. Served on the bone or cut for easy pickings, the pork knuckle was perfectly prepared. The crispy and light golden brown rind matched the soft and succulent white meat, exciting the palate with its mixed textures.
With or without their special dipping sauce, made from a mix of butter and red wine, the pork knuckle is both tender and flavourful.
Diners will also find other Western favourites such as the signature rib-eye steak, BBQ back ribs, Boston lobster, and over 60 wines, served harmoniously with garlic-baked crab, shovel-nose stingray, and Hokkien mee.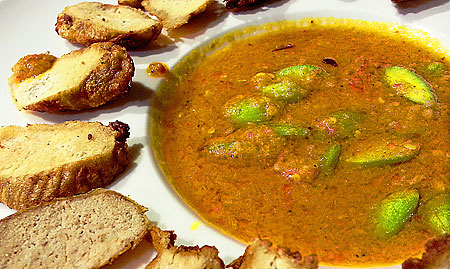 Zi Char Signatures
Deep Fried Roe ($19) with Sambal Chinchalok Sauce & Petai is another popular dish. Whole sacs of roe are deep fried, leaving the outer surface crispy, and then sliced to present the cooked roe.
The frying removes the moisture from the roe, leaving it white and fairly dry. Eaten by itself, the taste may be a little bland. However, it makes the perfect carriage for the rich sambal chinchalok sauce. The sauce gives it the spicy zing that the roe needs, and the petai beans add plenty of flavour to the mix.
HK Kailan Special ($12/$18) is New Ubin Seafood Restaurant's twist on a generic dish. Chopping the leafy parts of the kailan into thin narrow ribbons and frying it with tiny ikan bilis separately gives the traditional dish an innovative twist.
The taste was delicate and light, as veggies should be, while the crispiness of the leafy parts added additional and unexpected texture to an otherwise conventional staple.
Salted Eggs with Squid ($14/$18/$20) comprises stir-fried fresh squid coated with salted egg yolk. It is a simple yet delicious dish for those who like salted egg. The granular texture of the salted egg yolk was expected, yet the sotong was exceptionally tender.
The secret, apparently, is to soak the squid in a milk bath to ensure a soft, tender texture. The combination of salty graininess coupled with the firmness of the tender, white squid was delightful.
Brinjal Delight ($12/$18) is a nice side dish. New Ubin Seafood's unique creation features slices of sweet, caramelised brinjal fried with dried chilli. It was a nicely-balanced dish with the sweet caramelised coating complemented by a mild kick from the dried chilli. The texture of the eggplant was delightful.
This is just a small selection of signature dishes that New Ubin Seafood Restaurant offers. Many of their other specialities, from smoked duck breast and baby back ribs to tequila chicken in claypot and hei chor, remain an uncharted and anticipated discovery for me.
All these and more are definitely worth your trip to discover too.
Dine Comfortably; Avoid the Crowd
Personally, I'm too impatient to queue. And, since New Ubin Seafood Restaurant has a strong regular following, it's practically impossible to get seats on weekends without a reservation (which, as Mr Pang shared with me, should be made at least three days in advance).
I strongly recommend going on one of the days from Monday to Thursday to avoid the crowd. Or, you can simply contact the restaurant to place a reservation.
The restaurant offers both indoor and air-conditioned seating. Although, if you want a table in the air-conditioned areas, you are advised to book in advance.
Locate it on a map first to familiarise yourself with the location, then head down for some truly great food.
New Ubin Seafood Restaurant, Blk 27 Sin Ming Road, #01-174, Mon-Fri: 11am-2pm & 5.30pm-10pm; Sat-Sun: 11.30am-2.30pm & 5.30pm-10.30pm. Reservations: 6466 9558. No corkage fees. www.ubinseafood.com