Newly-opened Chinese restaurant Diamond Kitchen serves hearty and familiar fare
It may be snugly tucked away in Laguna Park condominium in Marine Parade, but Diamond Kitchen welcomes all to dine on familiar Chinese food that most Singaporeans love.
The food served here is reminiscent of that of zi char stalls but with a more sophisticated touch. The dishes mostly come in three sizes (small, medium and large) and the prices differ accordingly but stay in the mid-range.
Communal Dining
True to the Chinese style of dining, most of the dishes here are meant for sharing. We loved their Clam Mee Hoon. The dish is full of fresh clams and vermicelli cooked in a flavourful and briny broth and garlic. This is truly a refreshing change from typical rice dishes.
Their Champagne Pork Ribs, their take on the typical "Pai Gu Wang", is sweet, tender and had a slight kick from the champagne. We almost wanted to mop up the gravy with our rice.
Also try their Salted Egg Squid. This moreish dish contains golden-fried, chewy and fresh squids, coated in salted egg yolk. Mmm…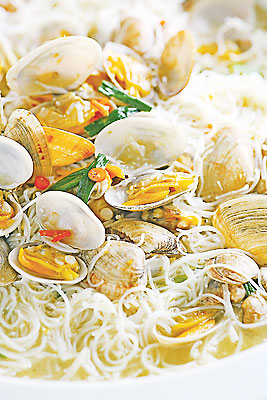 Fresh Seafood
Typically, Chinese restaurants have tanks full of fresh seafood, alive and kicking, to show you exactly how fresh the food is. It is no different with Diamond Kitchen. When we were there, there was a crab trying to escape from the tank, much to our amusement.
Their take on steamed shrimps comes steaming hot in a bamboo bucket with piping hot stones beneath, so be very careful when helping yourself to the dish.
Diamond Kitchen also has Chinese New Year set menus starting from $168+.
Diamond Kitchen, Laguna Park Condominium, 5000F Marine Parade Road, #01-22/23, Singapore 449289, E-mail: Reservation@diamondkitchen.com.sg