Ever wondered what strange and unique traditions other countries have? We take a look at how CNY is celebrated elsewhere
Gifting red packets, loud lion dance performances and popping (fake) firecrackers are all Chinese New Year (CNY) traditions we're used to in Singapore. These are common sights in throughout Asia, but there are some other interesting practices that we hardly get to see here.
So what exactly are our neighbours up to that we absolutely must fly to try?
Hong Kong: a Festival to Last the Year
This bustling city's CNY celebration is ranked among the world's best festivals, starting with the extravagant International CNY Parade on the first day.
Dozens of floats cruise down the streets, accompanied by an entourage of dancers, jugglers, bands and more. It's similar to our Chingay Parade. The second day is ushered in with fireworks over Victoria Harbour, and the third day is packed with CNY horse races.
Malls stay open and even extend hours throughout these few days. Gifting flowers and plants holds a lot of significance, with specific types denoting certain wishes.
Key place to be: Along Nathan Road's Golden Mile
Vietnam: Visiting Graves
The Vietnamese celebrate Vietnamese New Year – or Tết – with a tradition not many of us may be used to. Some families visit the graves and family altars of their ancestors, and clean the grave as a sign of respect.
Of course, it's not an entirely sombre affair. The Vietnamese know how to have fun too. Families can spend days before Tết preparing an extensive repertoire of delicacies. On the Eve, fireworks erupt over major cities like Hanoi and Ho Chi Minh.
The Vietnamese also receive seven consecutive days off as public holidays. Now that's a tradition we wouldn't mind incorporating!
Key place to be: Saigon district in Ho Chi Minh City. Or somehow get yourself invited into a Vietnamese home to be part of the celebrations!
USA: Parties and Pageants
With quite a sizeable population of Chinese living in the US, the major cities – San Francisco, New York and Chicago – have taken to throwing large-scale parades for CNY. However, the most remarkable one has to be in San Fran, home to America's largest Chinatown.
CNY celebrations have been here since the 1860s, and draw almost a million spectators every year. The evening parade is a kaleidoscope of bright floats, stilt walkers, dancers, and more. The centrepiece is an 82m golden dragon that glides gracefully through the streets.
San Fran also throws together a CNY Flower Market and – get this – a Miss Chinatown USA beauty pageant. I would jet there just to see who gets the big ang pow for that!
Key place to be: Chinatown in San Francisco
England: Empire of Excitement The English empire knows how to throw a good party! Hundreds of thousands throng to West End to witness the spectacle of events. A colourful New Year's Parade passes from Charing Cross Road to Chinatown, with a sensational midday opening ceremony held at Trafalgar Square.
Acrobatics, traditional dances and song recitals fly in from China for the occasion. Chinatown bursts to life with craft stalls, food stands, calligraphy booths and martial art performances.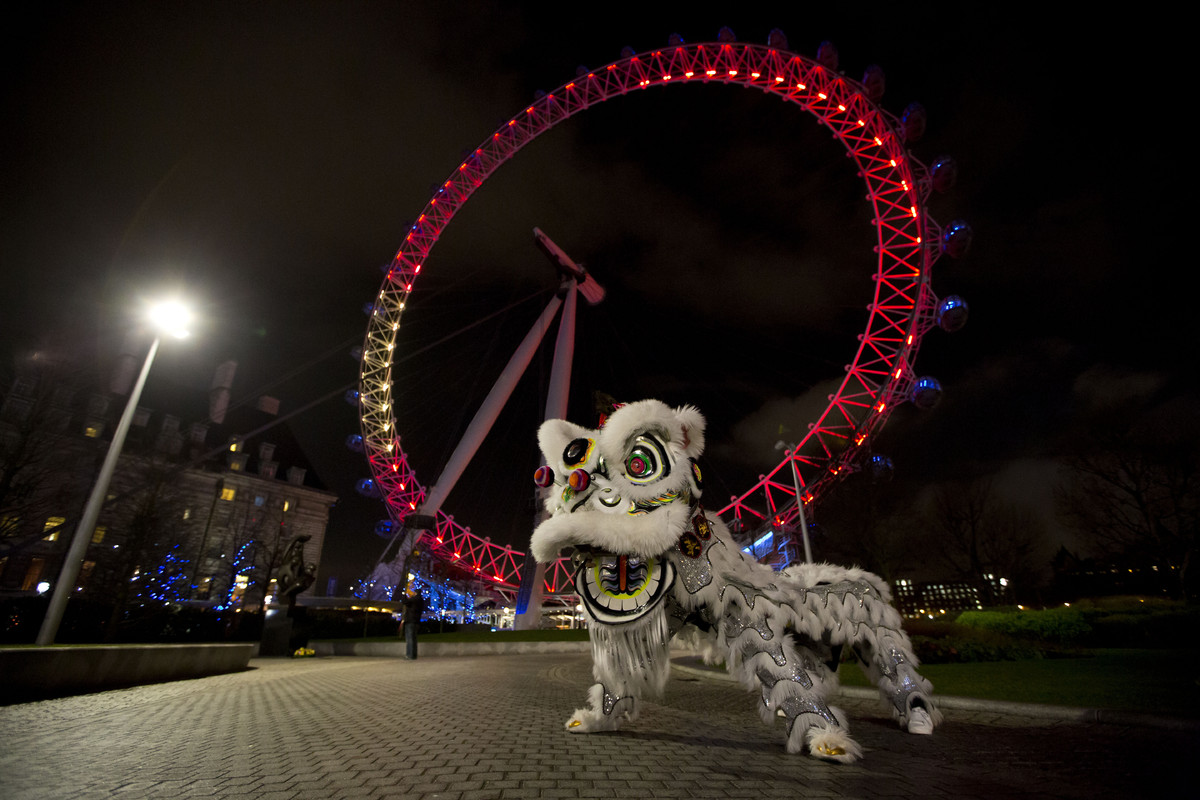 The London Eye is lit red and gold, and surrounded by various events. Classic wax museum Madame Tussauds is also bathed in auspicious red light and – if you dare brave the mad queues – you can witness lion dance performances, customary decorations and music.
It's truly fascinating to see the icons of other cultures celebrating CNY too!
By Pamela Chow