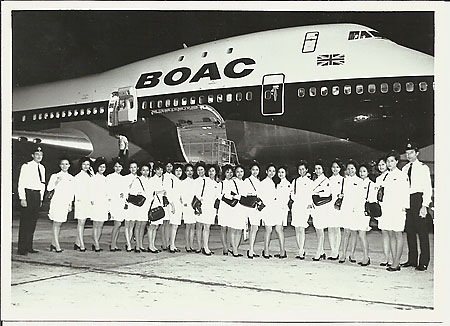 The Singapore-based crew in 1972
British Airways' cabin crew took to a different kind of runway as the airline hosted a fashion show to celebrate 80 years of flights
To commemorate British Airways' 80th anniversary of regular flights to Singapore, a different kind of fashion show was held at Eden Hall, home of the British High Commissioner.
The show featured uniforms from the 1940s to today, by renowned designers including Hardy Amies – the former dress designer for Queen Elizabeth II.
The outfits were modelled by British Airways Singapore-based cabin crew and models.
"Singapore holds a very special place in our company's history, so this is a very exciting milestone for us," said Robert Williams, British Airways Regional General Manager, South-East Asia, who hosted the event.
The First Flight
On Dec 9, 1933, the airline's first regular service to Singapore departed London – a journey that originally took ten days.
The inaugural flight to Singapore on what was then Imperial Airways departed from Croydon, London, and travelled via Paris, Brindisi, Alexandria, Cairo and Karachi.
A one-way fare to Singapore cost £180, which was just below the average yearly salary at the time.
Singapore has historically been an integral part of British Airways' network, linking the UK with both Australia and the rest of Southeast Asia.
Present Strengths
Today, British Airways offers a twice-daily service to London and a daily service to Sydney.
On Oct 15, British Airways was awarded "Best Airline", "Best Airport Lounge", "Best Frequent Flyer Programme" and "Best First Class" by readers of Business Traveller magazine.