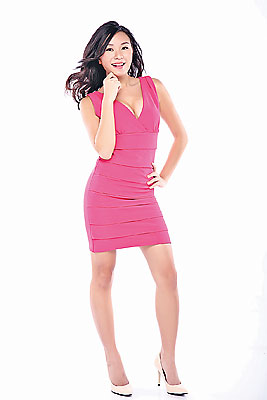 Using TCM principles and state-of-the-art technology, Slimming 101 helps women achieve healthy, effective slimming
Commercial slimming treatment has long been regarded with suspicion and frowned upon because of dubious treatments and dangerous products that the public has been warned about.
Slimming 101, however, is unlike the rest.
Working with a TCM physician
Generally, traditional Chinese medicine (TCM) treatment includes a combination of medicinal herbs, and physical treatments such as acupuncture and acupressure massage. Slimming 101 takes this holistic approach – a far cry from cosmetic changes, crash diets or simply water-loss that bogus treatments or methods touting weight loss offer.
In the TCM philosophy, the body's life force, also known as qi, flows through the meridian system to support life. It is believed that qi flows through 12 meridians, or channels, and illness occurs when qi becomes blocked, and the harmony of the yin and yang (interconnected, interdependent forces) is disrupted.
A sound understanding of TCM principles allows them to offer a healthy slimming regime from the inside out so that women can gain their ideal figures. Combine this with ancient acupressure and acupuncture point massage techniques to resolve the root of one's body and weight issues, you've got a winning formula for weight loss.
Also, they work closely with their TCM physician to ensure that the most effective, safe and natural methods are used to help the client attain his or her weight loss targets and objectives.
Combining TCM with European botanicals
Slimming 101 uses European botanicals and state-of-the-art slimming machines to allow clients to lose excess weight and fats in safe, painless and effective ways.
Rosemary, lavender, white thyme, citron fruits, cinnamon leaves, juniper, sage, peppermint, capsicum, black pepper and ginger sound like ingredients off a cookbook, but these premium European herbs are actually used for Slimming 101's treatment procedures.
Cinnamon leaves help dissolve cellulite by dilating (widening) capillary vessels; rosemary activates lymphatic nodes to enhance drainage and blood circulation; while white thyme acts as a tonic with anti-inflammatory properties.
In addition, lavender helps to reduce water retention and to improve blood circulation; juniper detoxifies and cleanses the body of excess toxins and promotes vascular circulation; and peppermint has toning properties with collagen and elastin fibres that increase the skin's firmness.
Only premium extracts are taken from these herbs under the most stringent of laboratory conditions, and they are used after careful evaluation of the client's body and health.