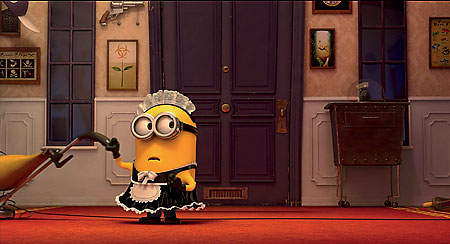 The minions are back and funnier than ever. "Banana?" 
Despicable Me amused audiences in 2010 and grossed US$540 million. Now, gear up for more minion madness in Despicable Me 2.
A New Villain
Chris Meledandri and his filmmaking team create an all-new comedy adventure featuring the return of former super-villain Gru (Steve Carrell), his adorable girls and the hilarious minions, together with new and outrageous characters.
Now that Gru has left behind a life of super crime to raise Margo (Miranda Cosgrove), Edith (Dana Gaier) and Agnes (Elsie Fisher), Gru, Dr Nefario (Russell Brand) and the minions have some free time on their hands. But just as he starts to adjust to his role as
a suburban family man, an ultra-secret organisation dedicated to fighting evil around the globe comes knocking.
Now, it's up to Gru and his new partner, Lucy Wilde (Kristen Wiig), to discover who is responsible for a spectacular crime, and bring the villain to justice.
New Additions
Joining the returning cast for Despicable Me 2 is Ken Jeong as Floyd Eagle-san, proprietor of the local hair replacement club for men and key suspect in the most despicable crime to hit the globe since Gru departed the game.
Steve Coogan also joins as Silas Ramsbottom, Lucy's boss in the Anti-Villain League and a superspy whose surname offers an endless source of amusement to the minions.
Family Values
Meledandri says, "We knew that the underlying core was going to be about the evolution of this family. That was absolutely clear."
He adds, "For Gru, it is life after villainy, and now his primary responsibility is his family. He's trying to figure out how to support them and has started a cottage industry in his lab. He's retrofitted his lab to become a jam and jelly factory… If he makes the decision to leave that behind because it's best for his family, how does he feel about that and what should he do next?"
Be prepared for more laughs and minion madness, and more heart-warming moments. Bring your family.
Despicable Me 2 [G]
Director: Chris Renaud & Pierre Coffin
Starring: Steve Carrell, Russell Brand, Miranda Cosgrove, Ken Jeong and Elsie Fisher
Genre: Comedy-Adventure
Run Time: 138 min
Release: Jul 4