Iron

Chefs 

Hiroyuki Sakai and Chen Kenichi will be cooking up an exclusive

Iron

Chef

Dinner at Me@OUE on May 14

By Nicole-Marie Ng

Growing up, Iron Chef was one of my favourite TV shows to watch. The energetic battles at kitchen stadiums where chefs leave everything on the plate to the intense judging sessions where you can't help but root for both challenger and Iron Chef.

The show enjoyed 6 years of resounding success and even inspired American spinoffs of the Food Network, but nothing can ever beat the original.

For one night only, you can catch Iron Chef French Hiroyuki Sakai and Iron Chef Chinese Chen Kenichi duke it out once more as they prepare a 5-course dinner at Me@OUE, an open concept restaurant that will allow you to enjoy a truly spectacular view of the chefs as they delight both your eyes and palette.

We caught up with the Iron Chefs to find out more about their kitchen stadium experiences and what they've been doing since the final Iron Chef episode aired.
Left, Iron Chef French Hiroyuki Sakai, master of delicate flavours and cooking with finesse. Right, Iron Chef Chinese Chen Kenichi, known for his bold sichuan flavours cooked in a fiery wok.
Iron Chef enjoyed success on screen for many years, what changes did you notice as the show evolved from the first few episodes to the last few episodes?
Chef Chen: I was very nervous in the early days but as the show progressed, I started to enjoy the challenges more and more. With each challenge, I grew more confident in showing my skills and recipes. Each episode was a big push for me to keep innovating myself.
Chef Sakai: Absolutely. Apart from techniques, with each episode, the relationship and solidarity between the competing Chefs grew stronger. It was an experience like no other!
How did you prepare and think of the dishes you cooked on Iron Chef?
Chef Sakai: To some extent, I had the initial idea in mind before each battle started. But inspiration was equally important as I did not know what the ingredient theme was beforehand. We had to think on our feet.
Chef Chen: Being on television meant being very visual, thus our dishes needed to be very appealing to the TV audience. Once we visualised our dishes, the ingredients and techniques would follow naturally. We also changed the tastes to suit the respective judges!
Iron Chef Chen Kenichi stroking the flames of his wok. Source.
What was the most challenging theme ingredient to work with on the show?
Chef Chen: You'd be surprised to hear that most of the time it's the simplest ingredients – for me it was Milk and Flour.
Chef Sakai: Octopus!
If you had to cook a meal now using that ingredient, what would you do instead?
Chef Sakai: Simplicity is the key. Let the natural flavours, texture centre-stage.
Chef Chen: I don't try to dwell in the past – but I will have entirely different dishes and concepts all together now, for sure.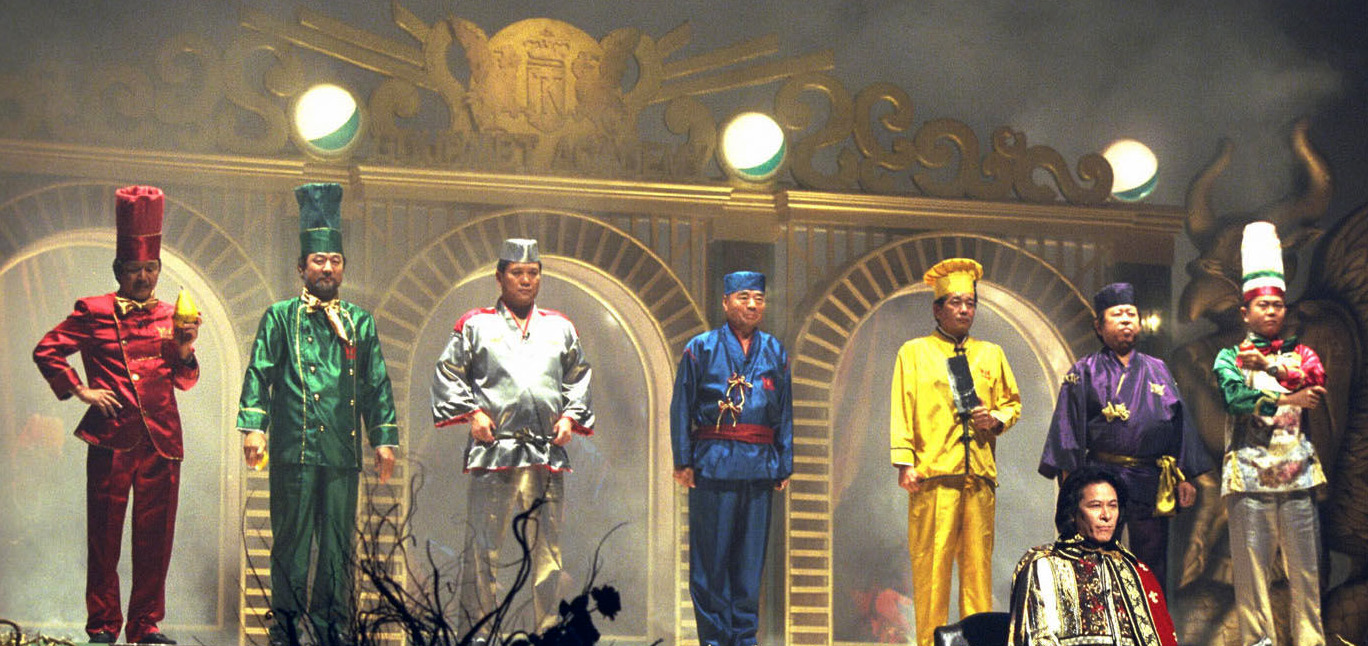 Iron Chefs through the ages. Chef Sakai (red) and Chef Chen (yellow) have taken part in the most number of kitchen stadium battles. Source.
If people are interested in having a taste of your cooking, where can they find your restaurant?
Chef Sakai: We have three restaurants in Japan, two in Tokyo, Minami-Aoyama and Tameike-Sanno (nagatacho) and another in Kyushu, Fukuoka.
Chef Chen: We have a total 13 restaurants in Japan, including seven in Tokyo, and other destinations in Japan like Nagoya, Shikoku area and Hakata/Fukuoka. Here in Singapore, Shisen Hanten by Chen Kentaro at Mandarin Orchard is an authentic venue to try my recipes.
The Me@OUE presents

Iron

Chef

Dinner will be held on May 14. The 5-course meal costs $222.40++ per person for JCB cardmembers, $278++ per person for other payment methods. Call +65 6634 4555 or email enquiry@me-oue.com for reservations.
Me@OUE. 50 Collyer Quay, OUE Bayfront, The Rooftop Level, Singapore 049321.