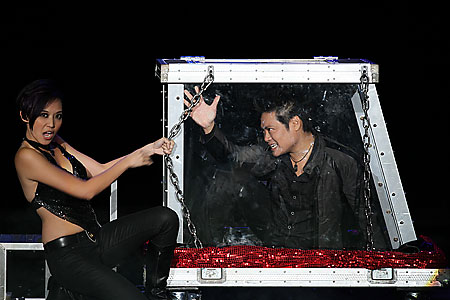 Fly Entertainment artistes JC Sum & Magic Babe Ning have done us proud in the magic industry; we speak with them on the latest
What got you interested in magic?
Ning: The magic bug bit me when I was five. It was truly love at first sight when I saw David Copperfield work his illusions on TV!
I begged my Mom to take me to the library, where I borrowed a whole stack of books on magic and intently looked through the pictures and their step-by-step instructions; that's where I learnt my first few simple magic tricks with ordinary 'everyday' objects!
JC: Like any child, I had a fascination for magic. The only exposure to magic at that time was the once or twice yearly magic show on television, as well as the occasional children's magician at a birthday party or shopping mall.
But, I bought a magic book from the bookshop and also received a magic set for a birthday gift around the same time. This introduced me to the first secrets of magic.
There are two types of people that react differently when magic secrets are exposed.
One group is disappointed at how simple the magic methods are at times, and gets disenchanted. The other group is people who are in awe with the deviousness and ingenuity of the methods and trickery that goes on to accomplish a seemingly simple illusion.
I belong to the latter and I suspect most magicians do.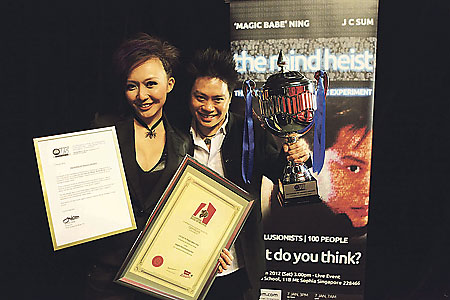 You guys have travelled far and wide for your jobs. Do you still get excited before each show?
JC: We may have adrenaline pumping through our bodies before a show if it is a very important showcase or a mega stunt that we have never done before.
But, most of the time, we are getting into the "zone" and being focused on what we have to do on stage, from a technical point of view, as well as to connect with and entertain the audience. And, of course, have fun in the process.
What are upcoming plans for the both of you?
JC: We will be traveling again in the last two months of 2013 and early 2014 as we headline two luxury cruise liners. I am also just about to release my sixth book on original illusion designs to the international magic community, and Ning is working on her second book for general public release.
You must have many interesting stories. Share some with us?
N: At one show early in my career, one of my first costumes was a pair of tight, sexy black vinyl pants that looked great on stage and was comfortable enough. However, in one illusion show that involved me getting in and out of a small locked box, yours truly suddenly heard a loud rip and I felt a cool draft on my ass! It had to rip right at the key moment when I gloriously popped out of the box … and, of all days, yours truly had chosen to wear red lacy panties!
Luckily, the illusion was the final act in the show and I managed a somewhat dignified backstage exit. There were no complaints; the hoots and cheers from my audience were crazy loud but still, it was an embarrassing but good learning experience. Now, my performing wardrobe consists of black high-quality tough and stretchy skinny jeans… and black underwear.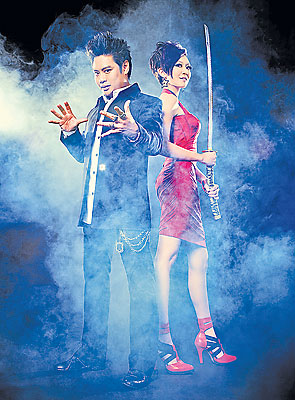 Who are your magician idols?
N: David Copperfield for the sophistication of his magic and bringing magic to the mainstream entertainment forefront. Princess Tenko became a lucid inspiration when I realised it was actually possible for an Asian woman to hold her own.
And JC for bringing Singapore magic to the international stage.
Do you try to decipher other tricks by fellow magicians?
JC: On the contrary, we watch a magic show as a layman to try to experience the wonder and astonishment as a "normal" person would. As professionals in our field we, generally, understand the methodology of most acts.
We are rarely surprised anymore but when we are, it is special. And, we don't want to know how it is done.
What would you like to say to Singaporeans?
N: Look beyond our little red dot. Experience the world if you can and appreciate what we have, yet do not blindly accept what is given to you.
JC: Dare to be different, not for the sake of being different but because you can contribute to the world, in your own unique world, in something that you have passion for.