Mayday (五月天), the legendary rock band will return to Singapore with the Highly Anticipated 'NOWHERE Re: Live' Tour in 2024!
In 2012, Mayday (五月天)'s 'Nowhere' tour took the world by storm as it made its grand entrance at the iconic Bird's Nest in Beijing's National Stadium, marking a significant milestone in the music industry. Now, a full decade later, Mayday is set to return to the same hallowed venue, presenting an evolved version of 'Noah's Ark' while carrying the same fervour and sentiments from their inaugural performance. They've shattered expectations by scheduling six performances over two weeks, each with distinct themes, and successfully drawing in over two million enthusiastic fans.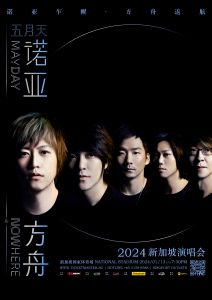 An Epic Journey Anchors in Singapore
The voyage of 'Noah's Ark' continues as it sets its anchor in Singapore on 13 January 2024 (Saturday) 7.30pm at Singapore National Stadium, Mayday (五月天) is all set to embark on another extraordinary journey, filled with cherished memories and the creation of new ones alongside their dedicated fans in Singapore.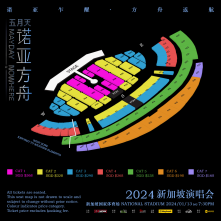 Ticket Information
Tickets start at S$168. Maybank credit card and debit card members can enjoy priority ticket purchases from 17 October 2023 (Tuesday) at 10am to 18 October 2023 (Wednesday) at 9am. To participate in the presale, you must have a Maybank card. For more details, please visit maybank.sg/mayday.
Singtel Telecommunications Exclusive
Singtel telecommunications mobile users can pre-purchase tickets on 18 October 2023 (Wednesday) from 10 AM to 11:59pm. For more information on Singtel, please click here.
Official Ticket Sales
Official ticket sales will commence on 19 October 2023 (Thursday) at 10am and can also be purchased through Singapore Post (SingPost) or by calling the ticket hotline at +65 3158 8588.
For additional ticketing information, please click here.