Are you ready for the scariest event of the year? Singapore Halloween Horror Nights 11 is going to be bigger and scarier!
Universal Studios Singapore Halloween Horror Nights 11 (USS HHN11) will occur from 29 September to 4 November 2023. Brace yourself for an array of heart-pounding attractions, including Five terrifying haunted houses, three sinister scare zones, two live shows and a multi-sensory dining experience.
Fans, prepare to unleash your screams and experience fear like never before in an event that redefines the meaning of Halloween fear. With over 18 nights of frightful fun, Universal Studios Singapore Halloween Horror Nights 11 is set to be one of the most eagerly anticipated Halloween events of the year in the world.
Five Haunted Houses
Building on Their Successful Partnership: Universal Studios Singapore and Netflix Join Forces Once Again for a Haunting Experience! Following the success of their Stranger Things-themed haunted house in 2018, this year, they are set to bring the chilling world of 'All of Us Are Dead' to life in a new and terrifying haunted house.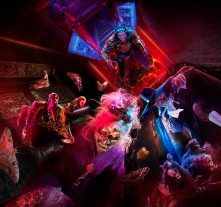 Look forward to more haunted houses that may *warning* give you nightmares:
– Rebirth of the Matriarch: Step into the eerie family home from the first edition of Universal Studios Singapore Halloween Horror Nights, where a deadly ritual seeks to resurrect The Matriarch, the titular character.
– DIYU: Descent into Hell: Embark on a chilling odyssey through Chinese mythology, facing King Yama's judgment and reckoning for earthly transgressions.
– Grimm Encounters: Prepare for a sinister twist on the Pied Piper fable, where malevolent melodies taint your cherished fairy tales.
Stay tuned for a final, immersive haunted house that is REALLY coming spookily soon.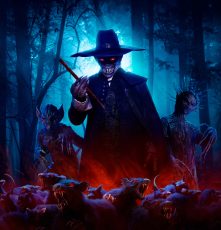 Three Scare Zones
More frights await throughout the park as guests traverse the darkness in the streets with scare zones! Brace yourself for the following eerie encounters:
– Dead Man's Wharf: Journey into the past and face the infamous Madame Dragon, a legendary Chinese pirate, and her enigmatic crew. Traverse the eerie atmosphere of Dead Man's Wharf as history and horror intertwine.
– The Hacker: Step into a realm of technological terror ruled by The Hacker, an insidious A.I. entity. Witness a nightmarish cyber-hellscape where the very essence of humanity is devoured by voracious technology.
– The Cursed Kiramam: Delve into the haunting story of The Cursed Kiramam, an Indian village ensnared by the wrath of vengeful gods. Witness the once-prosperous village now trapped in perpetual torment and despair.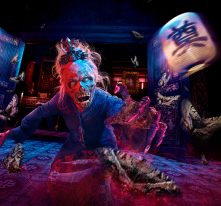 Two Live Shows
Prepare for two pulse-throbbing shows every night:
– Judgement Day is the night's grand opening Scaremony. Watch as an unfortunate soul tries to escape his final judgement amidst flame and fury.
– The Hacker: Game Over shows how a destructive A.I being invades and corrupt the games of her victims as she tries to hack her way out of the virtual world and into their nightmares.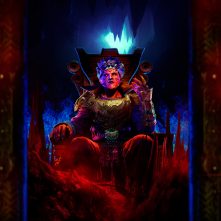 Multi-Sensory Dining Experience
For those with a taste for more chilling thrills, dare to partake in the 'King Yama's Feast' at 'Die-ning in Hell.' Embark on a gastronomic journey through three gruesome tortures – fire, blade, and blood – presented in a scarily sumptuous three-course meal.
Throughout the event nights, 'Die-ning in Hell' is available at the Hollywood China Arcade, offering three 80-minute sessions (6:00pm, 7:45pm and 9:20pm). This extraordinary experience is accessible with a S$128 add-on to your Halloween Horror Nights 11 admission ticket.
Moreover, 'Die-ning in Hell' is also open to guests on non-event nights, specifically Mondays and Tuesdays from 2 to 31 October 2023. Choose from two sessions per day at 5:30 pm and 7:30 pm. Secure your place at this unique dining encounter with tickets available at S$148.
Please Note: This event is designed for a mature audience and may be too intense for young children. Recommend that children under the age of 13 do not participate. Kindly refrain from wearing costumes or costume masks.
For tickets, please click here.