Bring your kids to The Great Digestion Adventure for some fun and exploration!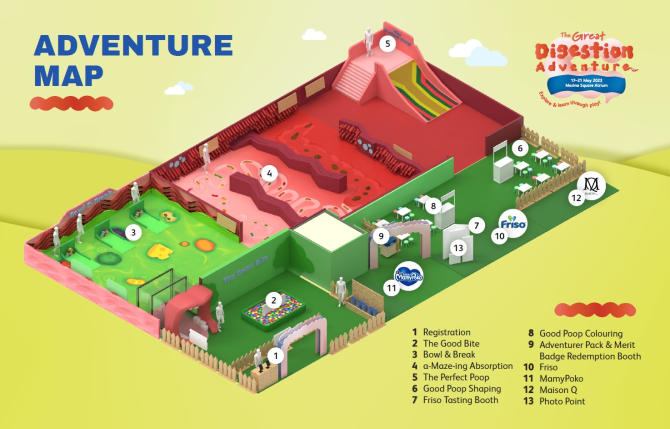 1. The Great Digestion Adventure
In celebration of World Digestive Health Day (29 May 2023), Marina Square created an Adventure for all,  The Great Digestion Adventure. It comes with four interactive and educational zones. You get to learn how our bodies break down food from ingestion and digestion to absorption and egestion. The adventure will take place at Marina Square Atrium. The event is proudly sponsored by Friso, a nutrition formula milk brand that champions good gut health in young children, making it a perfect match for The Great Digestion Adventure.
The Great Digestion Adventure begins with a food pool in a ball pit called The Good Bite. Children will scoop six (6) different coloured items before tossing them into a gaping, toothy maw – heralding the start of the digestion process, ingestion. Parents and their little ones can learn how eating a balanced meal can improve their physical and gut health. Next, venture through the mouth and esophagus in the Bowl & Break. The adventure continues next door at the a-Maze-ing Absorption. The zone, designed with a pink, fleshy environment, resembles the interior of an intestine. After the absorption stage, the family will swoosh down a slide and aim to land The Perfect Poop – marking the larger-than-life digestive system's visual and physical endpoint and the end stage of digestion, egestion.
The Great Digestion Adventure will be held in Marina Square's Atrium from now to 21 May 2023,