Dining out or hosting a party for Hari Raya celebrations?
Check out these options, as we have made things easier for you!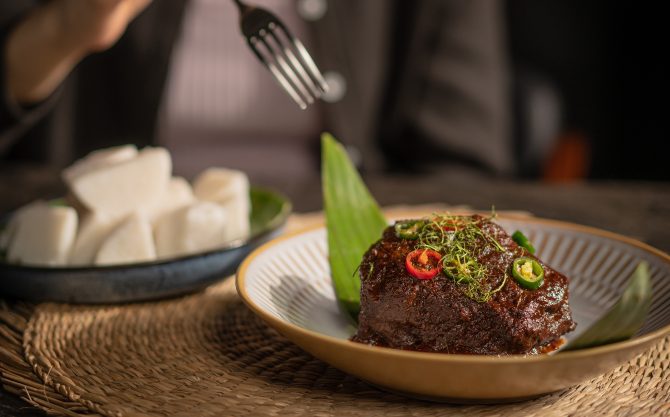 1. Rempapa
From 21 to 23 April 2023, Rempapa is busking into the mood of Hari Raya with five special dishes created by Chef Damian and Head Chef Alan Chan. The line-up features traditional Malay dishes that draw on the fond food memories of both chefs during the occasion.
Diners can look forward to dishes such as, but not limited to:
– Sambal Goreng, a staple Malay dish that consists of vegetables, tempeh, fried bean curd (tau kua) and prawns in a fragrant chilli paste
– Serunding, a touch of tamarind is mixed into caramelised grated coconut for Rempapa's version, inspired by Chef Damian's memories of Aunty Zainab, a fond family friend who regularly presented tables of Indonesian-Malay fare for her loved ones.
– Ayam Masak Merah, French chicken is cooked in enriched tomato sauce and an aromatic mix of herbs and spices until the flavour permeates the meat.
– Beef Cheek Rendang, a traditional dish, is renowned for its laborious cooking process, so it's often reserved for special occasions and celebratory meals.
Rempapa is located at 2 Paya Lebar Rd, #01-01/02/03 Park Place Residences at PLQ, Singapore 409053.