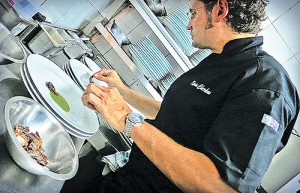 Bali is a land of wonderful temples. In Jimabaran, Chef Kevin Cherkas and his partner, virginia entizne, have built another place of worship – for food – called Cuca
By Frank Young
Chef Kevin Cherkas is a purist who practices what he preaches.
Whether it's batch-made butter from local cows to exotic seaweed only available in the remote areas of Bali, his obsession with this belief drives him to make culinary masterpieces from ingredients that are 100 per cent local.
Painstakingly Curated
From forks to furniture, every item in his restaurant, Cuca, is painstakingly designed to celebrate the art of cooking and dining.
For example, Cuca, located in Jimbaran in Bali, has an impressive 8m-long teak counter that is slightly elevated, so that guests can directly face the open kitchen, as if in front-row seats attending a performance.
Refreshing Highlights
His culinary performance does not disappoint. Among his signature dishes at Cuca is the Chilled Watermelon Salad, an outrageously flavourful concoction of watermelon, calamansi, radish, fresh seaweed, sesame and cilantro.
From the cocktail menu, "Pink Lime" stands out. It is a frozen combination of fresh lime juice, honey and gin, topped with soda meringue.
Truly special from the desserts category is "Cocoa 8", a warm dark mousse made from exceptional local chocolate with mint ice cream and chocolate cake croutons.
For anyone who worships culinary delights, Cuca is worth the culinary pilgrimage to Jimbaran.
About Kevin Cherkas – Chef/Restaurateur
Chef Kevin Cherkas has an enviable track record. In Spain, he honed his skills at the three Michelin star Arzak Restaurant in San Sebastian, three Michelin star El Bulli in Roses, and two Michelin star La Broche
in Madrid.
He has also left his mark in New York during his tenure with Daniel Boulud at his highly regarded three Michelin star Daniel restaurant.
As testament to his culinary talent, he is the recipient of numerous awards. These include gold and silver medals from around the world. More recently, Chef Kevin helmed BLU at Shangri-La Hotel, Singapore. His latest baby is Cuca Restaurant in Jimbaran Bali.
Cuca Restaurant (adjacent to Kayumanis Jimbaran Private Estate and Spa), Jimbaran, Bali, www.cucaflavor.com
A Cuca experience in your own home!
At the request of Weekender, Chef Cherkas, of Cuca Restaurant in Jimbaran, Bali, has graciously shared with us his recipes for some of his favourite concoctions.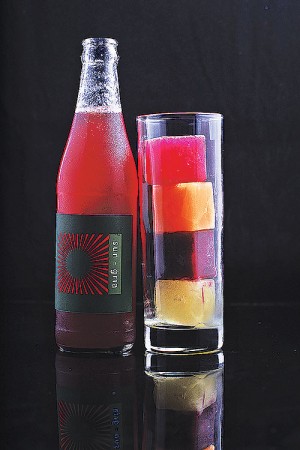 RECIPE 1: Sun-Gria
A playful variant on a Spanish classic – iced fruit cubes and mixed wine.
Step 1
• Create the red wine mix. Mix the brandy with red wine and soda. Stir gently so as not to remove the bubbles from the soda.
Ingredients
• ¼ cup of red wine
• ½ shot of vanilla brandy*
• ½ cup of soda water
• 1 tablespoon of sugar
• 1 tablespoon of lemon juice
*Vanilla brandy: Cut 5 pieces of vanilla bean into bits. Put into brandy bottle, and steep at room temperature for a week to infuse.
Step 2
• Make the iced fruit.
• Juice fruits individually. Strain the juice to remove pulp.
• Freeze juice in ice cube trays.
Ingredients
• 1 cup of pineapple juice
• 1 cup of tangerine juice
• 1 cup of watermelon juice
• 1 cup of pink guava juice
• 1 cup of yellow watermelon juice
• 1 cup of grape juice
Step 3
• Place the ice cubes in a glass and serve the red wine mix separately, allowing your friends to pour it over the ice cubes.
RECIPE 2: Deep Ocean Tiger Prawn Puddle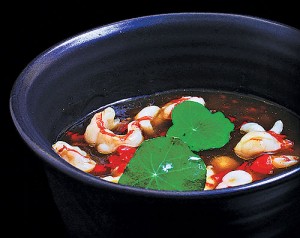 INGREDIENTS
• 1 cup of rice
• 2 cups of water
• 50g of butter
• 2 teaspoons of paprika
• 1 teaspoon of sea salt
• 1 piece of Mandarin zest
• 20 pieces of tiger prawn, fresh
• 4 pieces of red capsicum
• 1 bunch of basil leaves
• Prawn shells and heads from the tiger prawns
• 2 litres of water
• 2 pieces of tomato
• 1 leaf of kaffir lime chopped
METHOD
Preparing the rice:
1. Rinse the rice under running water for 1 minute, shaking and rubbing it. Then, strain it.
2. Mix rice with water, salt and butter and mix well.
3. Place in rice cooker and cook. Once cooked, stir gently and keep it in the cooker until needed.
Preparing the prawns:
1. Clean the fresh prawns and slice them into thin slices.
2. Save the shells and heads for making the broth.
Preparing the capsicum:
1. In a large bowl, mix the capsicum with a little oil and salt.
2. Place it on the baking sheet with skin side up, and cook in a hot oven at 200 degrees Celsius for 10-15 minutes.
3. Remove from the oven and put in a bowl, and cover. Let it sit for 10 minutes.
4. Remove from bowl and remove skin of pepper.
5. Cut into pieces.
Preparing the basil:
1. Remove leaves from the stem. Place in ice water for 3 minutes to refresh.
2. Remove from ice water and dry on paper towel. Store in chiller until needed.
Preparing the prawn stock:
1. Roast shells in oven at 160 degrees Celsius for 15 minutes.
2. Puree tomato in blender for 1 minute on "High".
3. Add shells, water and tomato puree to a pot.
4. Bring to boil and simmer slowly for 90 minutes.
5. Strain and force mixture to remove all the water out.
6. Reduce stock by half and add the kaffir lime.
7. Mix a little corn starch with water and add it to the boiling broth. Cook for 1 minute and then strain it.
8. Add prawn meat and roast capsicum, and cook for 1 minute to make sure prawn is cooked.
Note: Serve immediately over the rice. The prawn broth should be thick to prevent it from soaking into the rice too much.
Serving:
1. Place crispy fried shallots at the bottom of the bowl.
2. Remove a scoop of rice from the cooker and pack it gently into bottom of the serving bowl.
3. Gently spoon the thickened broth and garnish over the rice.
4. Finish by placing the basil leaves over the broth.