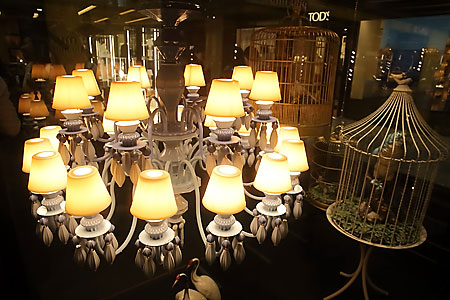 The renowned Spanish porcelain art brand celebrates its anniversary with the launch of a new concept of porcelain lamps and chandeliers
Lladro marked its 60th Anniversary on Oct 8 with the premiere of the new Belle de Nuit lighting collection. An exhibition of works and an auction for charity took place at Paragon in Orchard Road.
Greater Focus on Home Interiors
"We feel that the collection is an example of Lladro's creativity and craftsmanship; a contemporary slant on the traditional crystal chandelier," said Alejo Rodriguez, CEO, Lladro Asia Pacific.
"It also signals our plan to focus even more on home interiors at Lladro and our ability to do so, identifying trends and fashions in home interiors to create exceptional pieces for our international client base," he added.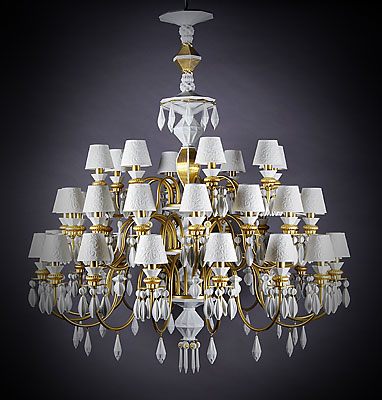 Belle de Nuit Lighting Collection
Belle de Nuit, a new line of ceiling, table-top and wall lamps, is made in porcelain and comes in various forms and colours in tune with trends in interior and home décor.
The concept for this new collection is based on the classic crystal chandelier, updating it not only in terms of the material used, but also changing the expressive language.
This reinterpretation gives rise to contemporary lamps in different sizes and models which fit in with all kinds of interior styles, and in which porcelain and colour play an important role.
The sensation Lladro lamps transmit in comparison with those made in other materials is the greater sense of warmth. The inviting and comforting effect of porcelain is enhanced in this new collection with the use of porcelain lampshades, known as "lithophanes", instead of the usual textile shades.
When they are lit, the transparency of the porcelain brings out the designs etched on the surface, creating a subtle lighting with a very evocative effect.
Belle de Nuit is available for purchase from $13,930 for the 12 Lights (White) to $46,430 for the 40 Lights Chandeliers (Gold).
Auction for Charity
At the event, a large figurine, "A True Friend", exclusively signed by founder and owner, Juan Lladro, was auctioned for charity.
"Juan Lladro personally chose this figurine as the auction piece as it alludes to important relationships and therefore recognises and thanks our Singaporean customers for their loyalty since we arrived in Singapore 22 years ago", said Rodriguez.
"A True Friend" was auctioned for $14,888 and all proceeds went to Very Special Arts Singapore, a charity providing people with disabilities with opportunities to access the arts for rehabilitation and social integration.
Apart from the Lladro shop at Paragon, Lladro is also available in Takashimaya where, in celebration of its 60th anniversary, a new limited edition of "Matador" is on sale for $6,580.
Lladro, Paragon, 290 Orchard Road, Singapore 238859, www.lladro.com