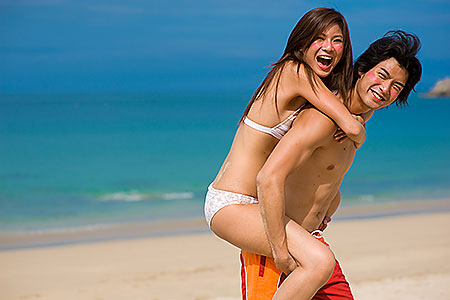 Picking the wrong swimwear can be incredibly detrimental to both men and women. Here's some help on picking the right outfit for your next beach or pool side trip.
By Cheryl Chia
If you're tired of your swimwear bunching up forming unattractive bulges or accentuating the wrong areas, fret not. With the right type of swimwear, these problems will be banished.
Men, you essentially have only three types of suits.
Boardshorts
Usually comes with a rigid waistband, a lace up front and velcro fly and falls at the knees. Not the best for doing laps in the pool as there's too much loose material that inhibits movement. Not to mention the way the inner lining bunches up at all the wrong places. More suited for beach volleyball and surfing than swimming.
Swim Trunks/Thong
The most old-school style of swimwear there is for men. Reveals a lot of leg and crotch, no extra material bunching up anywhere but the risk of a wedgie is very high. There is nothing more unattractive than a beach wedgie. However, having said that, the thong is always a no-no. It shows way too much for comfort. These are all right for sun-tanning but not so much for swimming or any other strenuous activity.
Boyshorts
These are the boxer-briefs of swimwear. Providing the coverage of a boardshort but the streamlined silhouette of a pair of trunks, these are great for swimming, tanning and even beach volleyball. The length of these boyshorts usually fall at the upper thigh but slightly longer versions are also available should you want more covered up.
Women have a much more complicated problem where their swimwear has to also make a fashion statement. Feel free to mix and match your tops and bottoms for a fun twist.
Skirted bikinis
For ladies who want a little extra curve below, a skirted style gives you more volume while adding a touch of femininity. If you have wide hips, try to avoid this style of bikinis to minimise the "lamp-shade" effect.
String Bikinis
Easily the most flattering style for all women as the cups and bottoms can be adjusted to size and comfort. However, this is a no-no for a top heavy woman as you require more support, search for thick strapped halter tops instead for a more flattering fit.
Bandeau Bikinis
Boyish figures would love this style as it widens the bodice, creating a curvier silhouette. Boyish figures can also have fun with ruffles and tiers to add an extra oomph to their beach bod.
One-piece Swimsuits
Don't neglect the classic one piece. Instead of the dated swim-styles of the 80s –say no to Baywatch- take this style to the next level by incorporating vintage details, making it a pin-up girl suit. Who says covered up can't be sexy?